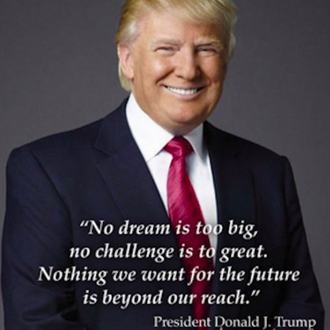 Back in 2012, Mitt Romney's campaign released an app that included the typo "A BETTER AMERCIA," and this was considered proof that he was hopelessly gaffe-prone. Four years later, the Trump administration has produced or inspired so many egregious typos that it's hard to keep track.
The last week was particularly bad. On Monday the Trump administration released a list of 78 terrorist attacks that included Denmakr instead of Denmark and San Bernadino rather than San Bernardino. It also repeatedly misspelled attacker as attaker. Then, on Sunday morning, the Department of Education tweeted a tribute to W.E.B. Du Bois, but called him W.E.B. DeBois.
Now the Library of Congress has been caught selling an inauguration print with the following quote from President Trump: "No dream is too big, no challenge is to great. Nothing we want for the future is beyond our reach."
Though the description aptly notes that the portrait "captures the essence of Donald Trump's campaign for the presidency of the United States," this isn't a case of the Library of Congress going rogue. The Hill reports that the page featuring the print was pulled between 9:30 and 10:00 p.m. As the Daily News notes, the same print is available from the site Celebrating America, without the typo — and it's cheaper!
While there weren't any typos, President Trump took part in another social-media gaffe on Sunday. Following this tweet from the GOP:
President Trump's personal Instagram posted this:
The problem: That quote isn't from President Lincoln.
As George Washington said, "Life comes at you fast."