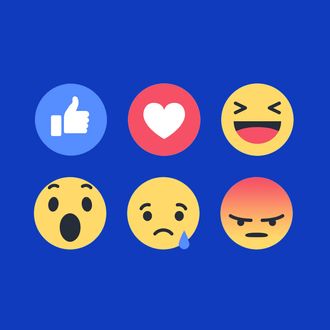 It's been one year since Facebook introduced the suite of reaction buttons that let people respond to content with more than just the classic thumbs-up. In addition to liking posts, Facebook added a wider range of emotions — "Love," "Ha ha," "Wow," "Sad," and "Angry" — each with a corresponding emoji. Since they were introduced, a Facebook representative told Select All that users have reacted over 300 billion times. The number-one reaction: the heart emoji.
According to Facebook, of the new options (so not including the standard "Like") the "Love" reaction accounted for over half of the reactions used throughout the entire year. Christmas 2016 marked the highest number of total reactions in a single day, with, you guessed it, "Love" being the top-used reaction.
It's particularly funny that the heart emoji was most popular over the past year, given that Facebook users already had a way to react positively to content. Not to mention, anybody who was on Facebook in 2007 was likely part of at least one Facebook group devoted to convincing Mark Zuckerberg and his compatriots to give us a "Dislike" button. While Facebook's reaction emoji didn't explicitly include a thumbs-down, the crying emoji and the angry emoji seem like pretty sufficient ways of expressing displeasure. And still, the love emoji came out on top this year. Maybe the internet isn't such a bad place after all. (It is.)
By country, Mexico, Chile, and Suriname were the top three countries using Facebook reactions, Facebook said. The United States came in eighth. Though, if the prevalence of angry emoji used during Sean Spicer's press briefings is any indication, that ranking might be changing soon enough.