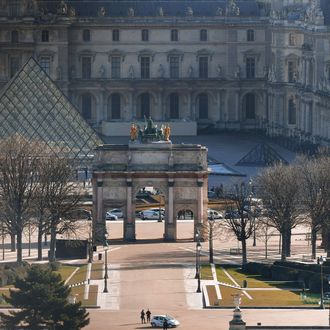 The Louvre.
Photo: CHRISTOPHE ARCHAMBAULT/AFP/Getty Images
In an attack described as "terrorist in nature" by the French prime minister, a machete-wielding man rushed a soldier near the Louvre in Paris and was subsequently shot five times. The attacker is reportedly in serious condition while the soldier suffered only minor injuries to his scalp.
The attacker, who was reportedly yelling "Allahu akbar" before he was shot, went after the soldier in the Carrousel du Louvre, an underground shopping mall outside the museum. After he was shot and taken into custody, bomb specialists inspected two backpacks he was carrying but they were found to not be a threat. Visitors to the museum learned of the attack over loudspeaker and were ordered to sit, away from windows, until they were evacuated about an hour later.
French President François Hollande responded to the attack on Twitter, writing, "I salute the courage and determination demonstrated by the military this morning at the Carrousel du Louvre."
Paris Mayor Anne Hidalgo also praised the "efficient and relevant Paris security features" that stopped the attacker before he caused any serious harm.
President Donald Trump remarked on the attack too, but he took a different angle than the two French leaders.
Trump's quick response to the Paris attack, which resulted in small wounds to one person, has led to criticism given the president's continued silence about last Sunday's murder of six Muslims at a Quebec mosque. It's also worth noting that the Quebec attack by a white right winger has received less attention by the Trump administration than the Bowling Green massacre, which never happened.