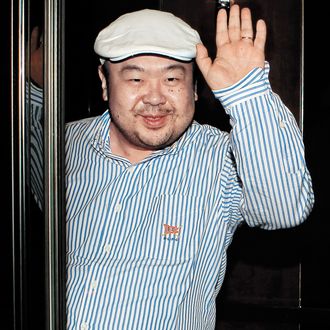 Kim Jong-nam.
Photo: JOONGANG SUNDAY/AFP/Getty Images
The case surrounding the death of North Korean leader Kim Jong-un's older half-brother keeps getting weirder. The preliminary autopsy of Kim Jong-nam, who died after allegedly being attacked with an unknown substance at the airport in Kuala Lumpur, Malaysia, is inconclusive, authorities say. South Korean intelligence officials believe Jong-nam had been poisoned as part of an assassination plot cooked up by his paranoid sibling, but so far, an examination hasn't shown any evidence of cardiac arrest or a puncture wound — which would indicate Jong-nam's assailants had injected him with a deadly toxin, reports the Washington Post. The Malaysian director of General Health Noor Hisham Abdullah, didn't rule out death by poisoning, and are awaiting the findings of lab tests. Authorities didn't give a timeline for those results, but the director of Malaysia's National Poison Centre said his lab had yet to receive specimens for testing. They were reportedly supposed to arrive two days ago.
Two women — one wearing an "LOL" shirt, and the other who claimed she thought she was participating in a reality-TV stunt — ambushed Jong-nam in the airport and misted him with a mysterious liquid. But experts told the Associated Press that it is strange that both women appeared to walk away just fine from the incident, which left Jong-nam dead before he could make it to the hospital. In addition to the two women, four other men are suspected in connection to Jong-nam's death.
Meanwhile, North Korea is picking a fight with Malaysia over the country's decision to perform an autopsy on the body, accusing it of "mangling" Jong-nam's body — even though the country has not yet confirmed that the dead man is a member of the North Korean ruler's family. Kang Chol, North Korea's ambassador to Malaysia, also blamed that country of working with South Korea to try to make Pyongyang look bad, saying in a statement that not releasing the body back to North Korea is "the culmination of human rights abuse and shows once again how they are desperate to shift blame on us."
Malaysian Prime Minister Najib Razak fired back, calling North Korea's comments "diplomatically rude."