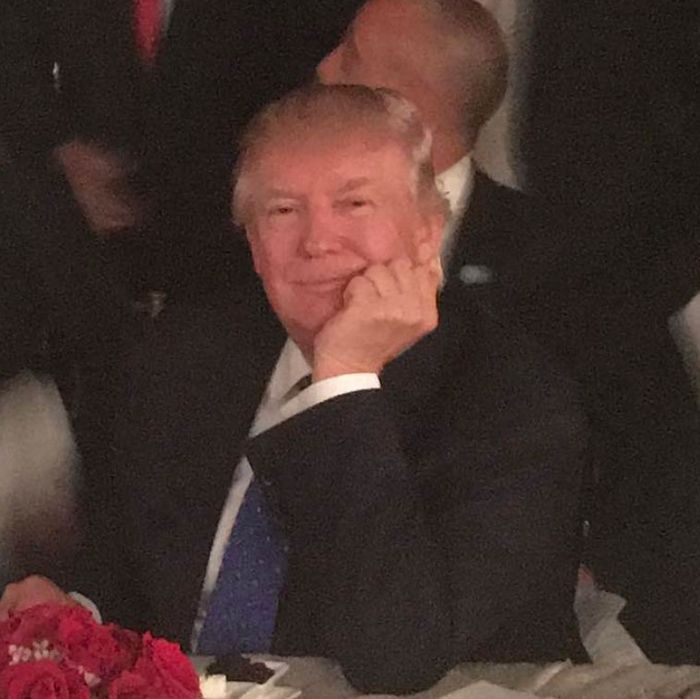 One of the many perks of membership at Mar-a-Lago, the Palm Beach club owned by President Trump, is a front-row seat to delicate international incidents. Over the weekend, President Trump entertained a Japanese delegation at "the Winter White House" (which, in the wake of the election, doubled its membership fee to $200,000), and in full view of private guests, addressed the launch of a North Korean missile alongside Japanese prime minister Shinzo Abe. According to CNN, "Trump took the call [about the incident] on a mobile phone at his table, which was set squarely in the middle of the private club's dining area."
But you don't need to take CNN's word for it! You just need to find the Facebook and Instagram accounts of some of Mar-a-Lago's well-heeled members. Among the many concerning aspects of the story is the fact that this emergency diplomatic conference happened in a crowded room full of private guests, some of whom decided to post on social media about it.
Erika Bain, who attended the gathering, snapped an amazing photo of Trump smiling slightly, his face at peace as his advisers swarm around him (her account is now private). It's quickly gone viral as an on-the-nose encapsulation of Trump's presidency. You can find other photos of the event on Instagram's Mar-a-Lago geotag.
Over Instagram DMs, Bain said, "It was a great evening. President Trump was sitting at the table having dinner with the prime minister. The table was roped off. We were sitting right near them. I went up to the rope and he was more than happy to smile for a photo!"
Another guest decided to publicly identify the military official tasked with carrying "the football," the briefcase containing the nuclear codes.
All of this is, needless to say, incredibly insecure. It's not just that using your smartphone as a flashlight means pointing your phone's camera directly at classified documents (the Secret Service, if you recall, does not like the president to have a phone with any camera at all), or that it's absurd to have a diplomatic meeting about a matter of nuclear security out in the middle of a public dining room — it's that doing so in an age of mass social media means that every security misstep is instantly and immediately made globally public. Who needs CNN's hours-later recap of Trump's Mar-a-Lago confab when you can just follow a few Mar-a-Lago members on Instagram and Twitter and Facebook and be treated to a front-row view of Trump's diplomatic process — and learn at the same time the name and face of the man carrying the single most important suitcase in America?
I asked Bain what the vibe (my term) was like. Apparently, "It was a great vibe. They [Trump and Abe] were deep in conversation the whole time," aided by a translator.
Asked whether she thought it was weird that private citizens would be able to get so close to the president while he conducted official state business, she replied, "No not at all."