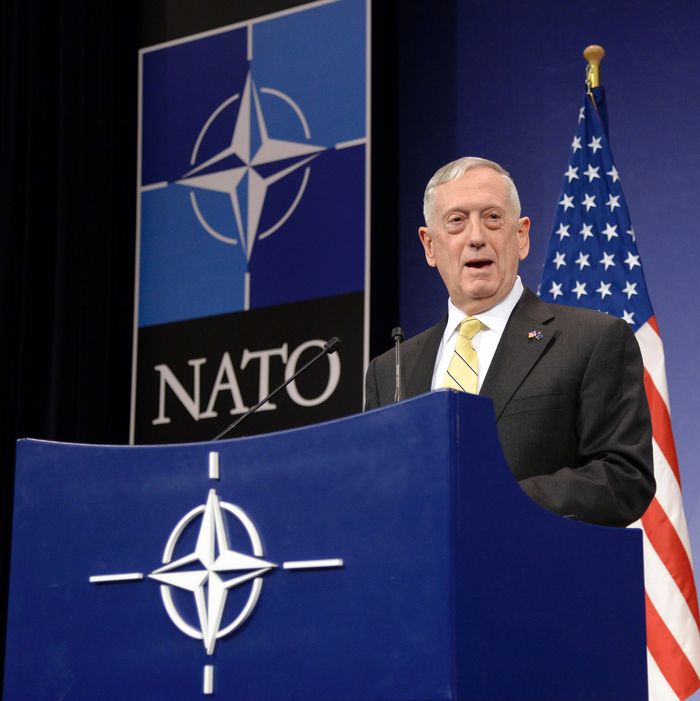 Defense Secretary James Mattis.
Photo: Thierry Charlier/AFP/Getty Images
Hours after Russian president Vladimir Putin called for greater cooperation with the United States and other Western countries in the fight against terrorism, Defense Secretary Jim "Mad Dog" Mattis said it's not happening. Not now, at least.
"We'll engage politically; we're not in a position right now to collaborate on a military level," Mattis said at a NATO meeting in Brussels. He added that Russia must "live by international law" and will have to "prove itself" before the U.S. military will work alongside Russia's.
Earlier Thursday in Moscow, Putin said, "It's in the general interest to establish a dialogue with the special services of the United States and other member countries of NATO." He also said Russia needs to "establish cooperation at a new level in the anti-terrorist sphere with foreign partners."
Mattis's very public denial of Putin's request stands in contrast to comments made by President Trump, who repeatedly said on the campaign trail that the U.S. and Russia could potentially work together in the fight against ISIS. When Trump and Putin spoke on the phone in January, they discussed the possibility, according to the White House.
One topic Trump and Putin did not discuss on that phone call, at least according to the White House's readout, is Russia's habit of attempting to influence foreign elections. Mattis, however, did bring it up in his speech Thursday. "There's very little doubt that they have either interfered or they've attempted to interfere in a number of elections in democracies," he said. Mattis did not, however, mention the most recent U.S. election.