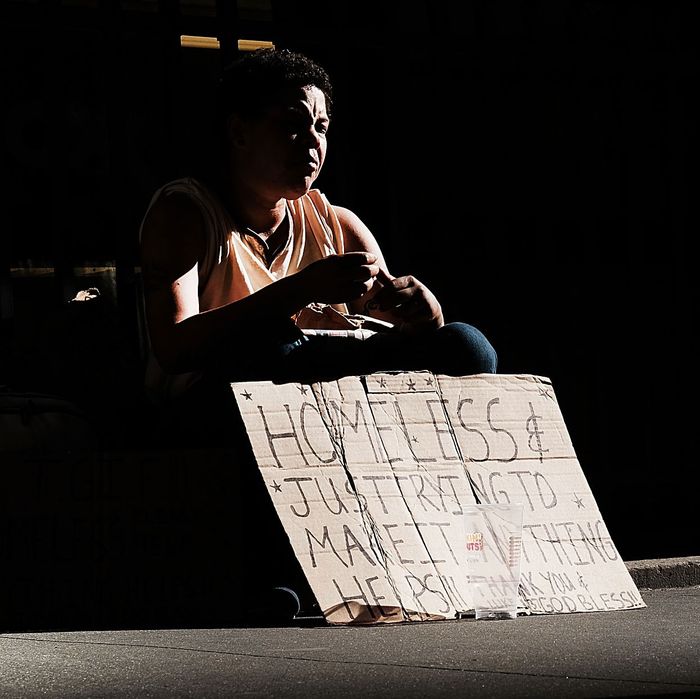 A homeless woman sits on Wall Street outside the New York Stock Exchange (NYSE) on February 24, 2017, in New York City.
Photo: Spencer Platt/Getty Images
The New York Times reports on a de Blasio administration plan to open 90 homeless shelters in the city, an increase of nearly a third. This is the mayor's latest attempt to tackle a crisis that has dogged his tenure. The number of people sleeping in shelters topped a record 60,000 in 2016, and reports of street homelessness have also spiked in the past year.
The mayor unveiled his new strategy Tuesday. In addition to creating 90 new shelters over the next five years, the city will increase capacity at 30 more shelters. The city would rely on this expanded shelter system to curb, and eventually end, the practice of putting families up in hotels — which now costs the city about $400,000 a day, according to the Times. It will also eliminate cluster- or scatter-site housing by 2023, where the city pays private landlords to temporarily accommodate homeless families. That policy has tended to place people in crumbling apartments, often with less-than-reputable landlords; it came under fire after two toddlers died in a radiator explosion at a Bronx cluster site in December, in a unit owned by a notorious slumlord. Right now, about 18,500 people bed down in hotels or cluster-site apartments.
But de Blasio's policy is modest when it comes to reducing the overall shelter population: 2,500 people over five years, which adds up to a 4 percent decrease.
The proposal is not without controversy. Homeless and housing advocates, while applauding de Blasio's decision to stop relying on dangerous cluster sites or dumpy motels, say more needs to be done to increase access to affordable housing to prevent homelessness, and to facilitate the permanent move out of shelters.
Many communities will likely bristle at the construction of new shelters. Residents have fiercely fought plans to convert a Holiday Inn into a shelter in Maspeth, Queens, and Sunset Park, Brooklyn, residents have protested the increase of shelters in their neighborhood. According to the New York Post, de Blasio will include an "equity plan" for these new shelters, so that they're distributed more evenly across neighborhoods in the five boroughs, a goal that follows on the heels of a report in the City Council that shows that residential services, including homeless shelters, but also foster-care and mental-health facilities, are overwhelmingly concentrated in a few community districts.
This latest move comes more than a year after Mayor Bill de Blasio introduced a flurry of initiatives in 2015 to try to tamp down the rise in homelessness. He pledged $6 billion over four years to tackle the crisis. The Department of Homeless Services went through a public shake-up and reorganization, and the administration set aside $10 million to help people facing eviction, devoted $22 million for outreach and case managers to help the mentally ill, and dedicated nearly $3 billion to build 15,000 supportive-housing units. And though the blame doesn't fall squarely on the current mayor — the shelter population reached record highs under Bloomberg's administration, under whose tenure the city and state withdrew funding for a program to help people transition out of shelters — he's the guy in charge now, and up for reelection in 2017.