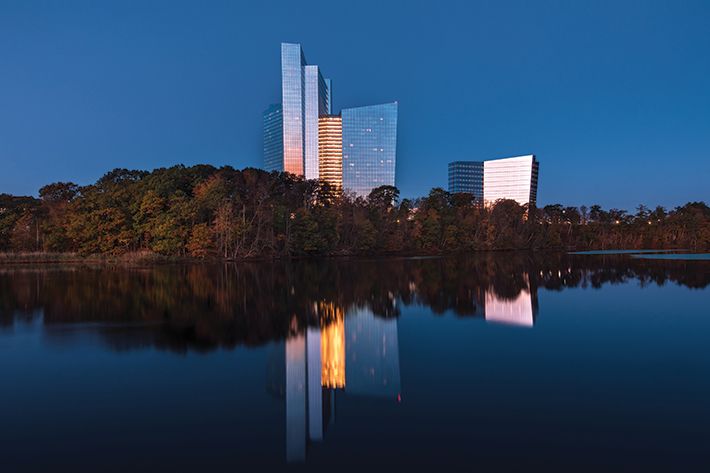 "Where should we go?" As a 30-something, married man who's organized everything from bachelor parties to family getaways, I can attest that no question derails more plans than those four dreaded words.
I've learned the hard way that, when entertaining a group with disparate interests, don't expect everyone to agree on one thing. Instead, find a place where everyone can agree on something. That requires variety.
So, you can imagine my excitement when I received an enviable assignment: go to Mohegan Sun and see how many activities I can cram into a single day. Challenge accepted.
I start compiling an itinerary: eat a nice dinner, try my luck in the casino, lounge at the spa, shop for my wife's birthday present, see a show, hit up bars and nightclubs, and so on.
Upping the ante, I invite my friend Gary along. To put it nicely, we have "different travel styles." Truth is, we don't agree on anything: I'm a foodie who appreciates a well-made cocktail and relaxation, while Gary prefers late nights and high stakes blackjack.
After a short ride to nearby Connecticut, we enter a grand room that defies any preconceived notion of a "hotel lobby." Visitors ensconce themselves around a giant mosaic-tiled reflecting pool. A waterfall guides groups to a towering glass sculpture that doubles as a popular photo spot. We check into Mohegan Sun's new Earth Tower to quickly drop off our stuff, but pause momentarily to take in the view of the Thames River and rolling hills in the distance.
As we tour the grounds, we comment on the sheer size of the place. The gaming floors alone total more square footage than five football fields. My itinerary begins to feel overly optimistic.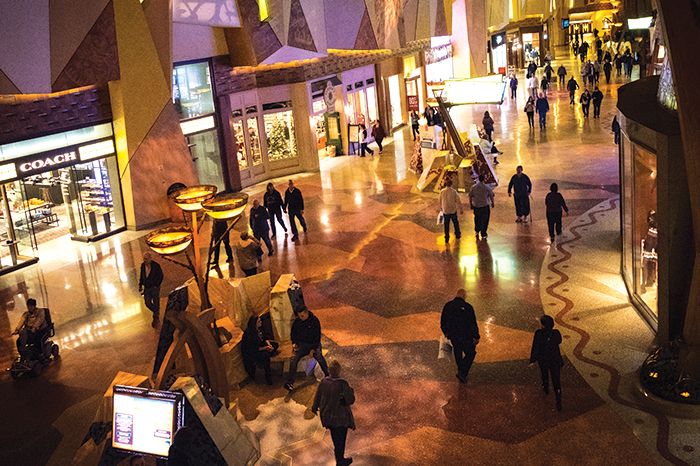 First, we check out The Shops at Mohegan Sun, a long stretch of premium stores. I need to bring something home for my wife, so I check out Coach, Swarovski, and Kiehl's. Gary heads over to Robert Graham, Brookstone, and the Art of Shaving. When we meet up later, I'm looking over earrings while Gary's eating caramel. I update my itinerary.
Shopping: check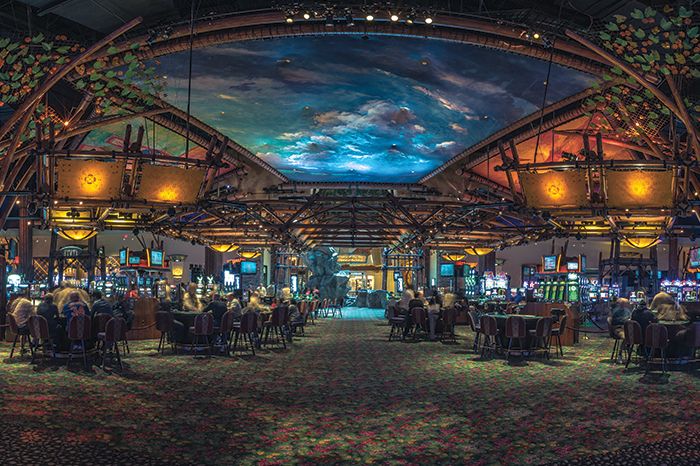 Gary frequents casinos and shares his philosophies on different games as we wander past tables. "Roulette is every man's game … Experienced players can work the inside, while new players stick to the colors. Red or black, it doesn't get simpler than that." A crowd erupts from inside one of the high stakes gaming areas. "That has to be blackjack," Gary says. "Blackjack is the ultimate social game. It's you and your tablemates vs. the dealer. When the dealer busts, everyone wins. It's a rush."
Each of three casinos exudes its own vibe, from the bright and energetic Casino of the Sky, to the posh and atmospheric Casino of the Wind. Gary is drawn to the Casino of the Earth, where we settle into a table. An hour slips by in no time. 
Casino: check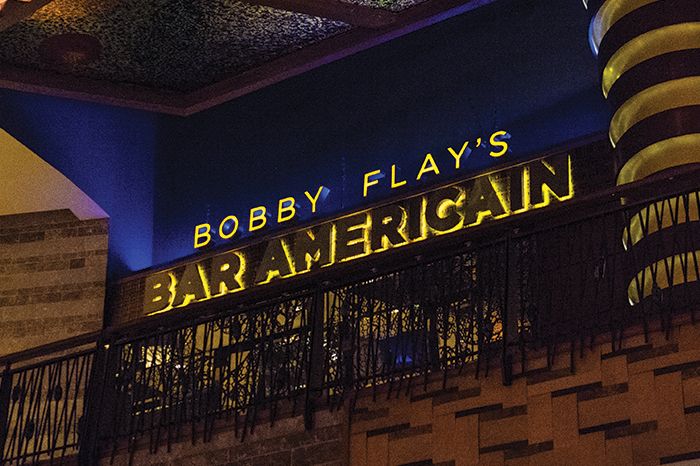 We move on to an early dinner at Bobby Flay's Bar Americain, one of Mohegan Sun's several celebrity chef restaurants. The attention to detail is impressive, from the chic dining room to the attentive service. I glance at the other tables and see a mix of families, younger couples, and groups of friends. We dine on duck confit in a bourbon sauce, rack of pork with sour mash and habanero apple butter, and gulf shrimp with grits and crispy ham. Gary offers a toast, "This is the life, man."
Restaurant: check
After dinner, we quickly swing by the Wolf Den, an open-walled live music venue for free shows situated in the middle of the casino floor. Some guests opt for seats a few feet from tonight's performer, singer-songwriter Tyler Farr, while others listen from the gaming floor. The concert is great, but we can't stay long – we have tickets to yet another show.
Live music: check
Inconspicuous double doors open up and we find ourselves inside the 10,000-seat Mohegan Sun Arena. The Arena is large enough to draw performers like Ariana Grande, Bon Jovi, and Bruce Springsteen, but it still feels intimate. Tonight, we're watching Cirque Dreams Jungle Fantasy, which has performers hanging 30 feet in the air by nothing more than a foot or a neck, sans net. On the way out, I make a mental note of the upcoming headliners: Chris Rock, Train, and The Weeknd.
Catch a show: check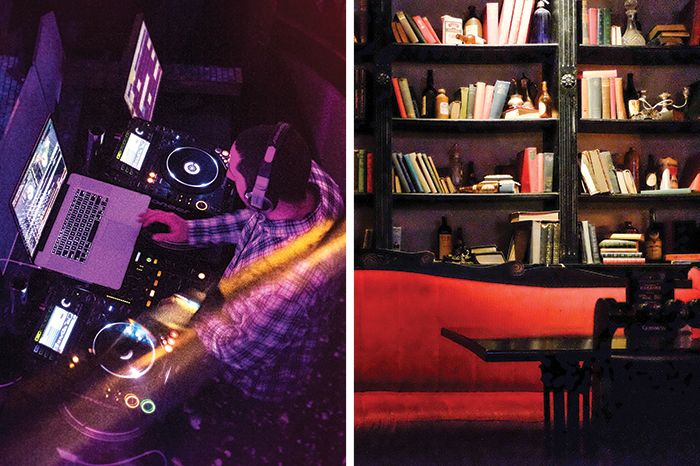 It's 9:30 p.m., and I have some hard choices to make. I decide to save COMIX Comedy Club & Craft Beer Bar and Elemis Spa for next time.
To cover more ground, Gary and I round out the evening by venue-hopping. After stopping by Michael Jordan's 23.sportcafe to catch the end of a game, we move on to a traditional Irish pub, grab a glass of wine at upscale Italian eatery BALLO, then drop into Avalon night club. Later, we wind down at VISTA Lounge at Wombi Rock. With its planetarium ceiling and glowing rock formation art, it's how I imagine a bar would look on the moon.
Bars and clubs: check (but with more to see next time)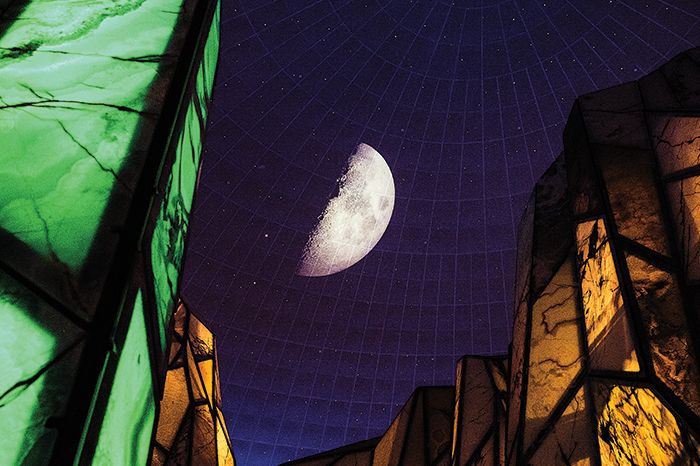 It's nearly 3:00 a.m. before Gary and I call it quits. It feels like we crammed a week's worth of activities into a single day, with more left to do. I could easily fill a few more itineraries, whether it's a date night or a golf trip in the spring. No matter who I come back with, at least I know there will be something for everyone.
This is paid content produced for an advertiser by New York Brand Studio. The editorial staff of Daily Intelligencer did not play a role in its creation.