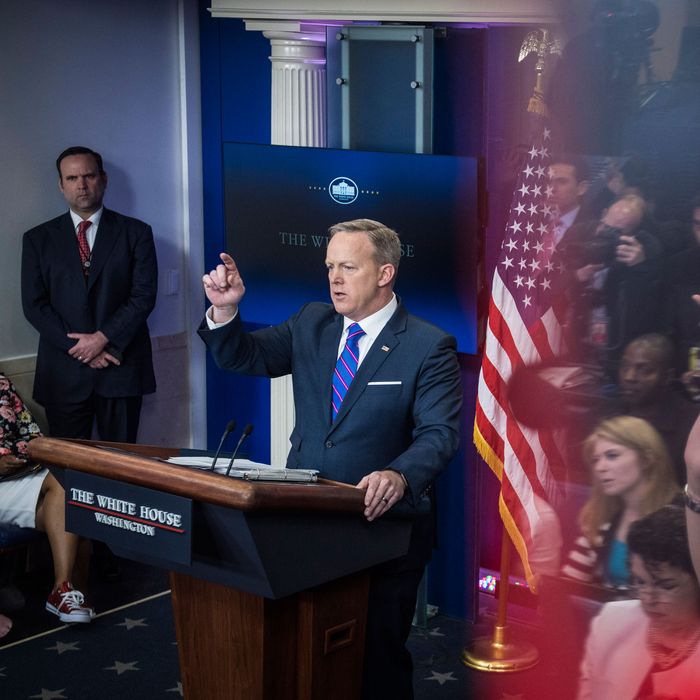 Sean Spicer keeps trying to explain the chaos.
Photo: Jabin Botsford/The Washington Post/Getty Images
The following episode is brought to you by a White House hastily signing executive orders while waging a war on the press that results in widespread confusion.
Friday morning, the Associated Press broke the news, in a tweet, that the Trump administration is considering "mobilizing as many as 100,000 National Guard troops to round up unauthorized immigrants." A follow-up story detailed an 11-page draft memo that suggested targeting immigrants in Oregon, Louisiana, California, Arizona, New Mexico, Texas, Nevada, Utah, Colorado, Oklahoma, and Arkansas.
During the 2016 campaign, Trump had promised to do something similar. "You're going to have a deportation force," he said in November 2015, during an interview on MSNBC. "And you're going to do it humanely and you're going to bring the country — and, frankly, the people, because you have some excellent, wonderful people, some fantastic people that have been here for a long period of time."
The AP asked the White House and the Department of Homeland Security for comment about the draft memo. They received none prior to publication, but the White House was quick to condemn the story once it hit Twitter with explosive force — a clever way to perpetuate its narrative that the mainstream media pushes "fake news."
In true Trump fashion, the White House pushback on the story was a dizzying mix of nonanswers, contradictory denials, and quickly exposed falsehoods.
A senior White House official told me it wasn't true that they were considering deploying the National Guard as the AP described. Asked where the story came from, the official said, via text message, "Check what we said—I think it was early draft in november…I will double check." Asked if that meant the White House had included a provision, like the one the AP reported, in a November document, the official said, "no," then directed me to DHS and became unresponsive.
Meanwhile, Sean Spicer, the White House press secretary, was talking to the press pool on Marine One. "That is 100 percent not true, it is false, it is irresponsible to be saying this," he said. "There is no effort at all to round up, to utilize the National Guard to round up illegal immigrants." He added, "I wish you guys had asked before you tweeted." (DHS told me they weren't "aware" of having been asked for comment.)
The pool report noted that "Spicer couldn't categorically state that this was never a subject of discussion somewhere in the administration." He said, "I don't know what could potentially be out there, but I know that there is no effort to do what is potentially suggested." He later tweeted, "This is not true. DHS also confirms it is 100% false."
But contrary to Spicer's claim, DHS confirmed the existence of the memo — a version of which was circulated by Time and Vox. David Lapan, the department's spokesman, emailed me to say, "the story is inaccurate," but he admitted the memo was very real.
"We do memos for all kinds of things," he said. "The process is the staff would prepare a memo like this, the secretary's name is on it in the draft because ultimately he will approve and sign it when it gets to that point—some are reporting that because his name is on the memo that he either drafted the memo, authored it or approved it, and none of that's true." Lapan claimed the memo was drafted by staff, but wouldn't specify how senior the staff.
"This particular draft was an early version that was going through the staff and was not the one that ultimately made it to the secretary," he said. He declined to disclose what iteration of the memo landed on DHS head John Kelly's desk. "Not yet, because we're waiting for the approval," he said. "Until he signs it it's not done."
When President Trump signed a border-security executive order on January 25, Lapan said, the department was tasked with figuring out how to implement it — something he said required a lot of brainstorming and back and forth, which is done through the drafting of memos. He said it wasn't as casual as spitballing, but it was a conversation that went, "Okay, here's the president's order. Here's what he wants us to do. How do we put that into action? What are the types of things that we can do to implement the president's executive order?"
"If people portray it in a way that makes it sound like the White House somehow drafted this, that's not accurate," Lapan said.
But asked if he could say for certain that the memo wasn't written at the direction of, or with input from, the White House, he was at a loss. "I don't know," he said.
He could say for certain, however, that the White House and DHS communicated this morning as the story broke to figure out, "What are you guys saying, what are we saying?"
He added that the conversation included a question from the White House: "Is this true?"