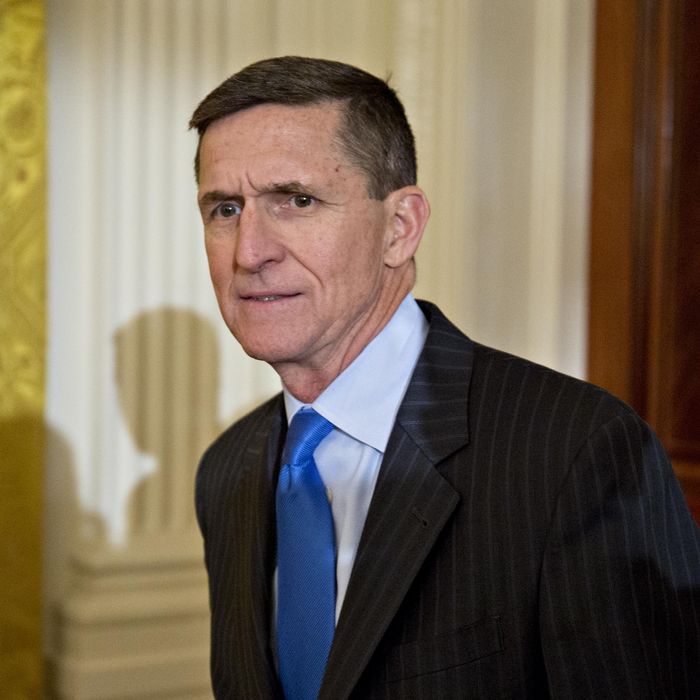 Photo: Andrew Harrer/Bloomberg via Getty Images
National Security Adviser Michael Flynn resigned on Monday night following reports that he misled Vice-President Mike Pence and other Trump administration officials on his conversations with Russia's ambassador to the United States in December.
"I inadvertently briefed the Vice-President-elect and others with incomplete information regarding my phone calls with the Russian ambassador," Flynn said in a resignation letter the White House emailed to journalists. "I have sincerely apologized to the president and the vice-president, and they have accepted my apology."
For weeks Flynn has insisted that he didn't discuss anything of substance in his conversations with Russian ambassador Sergey Kislyak, which occurred as the Obama administration was imposing sanctions on Russia over the country's alleged election meddling. It's a breach of protocol for a member of the transition to discuss policy with a foreign government, and it may be illegal. Pence repeated Flynn's denial on Face the Nation days before the inauguration, and in his first White House briefing Press Secretary Sean Spicer said sanctions never came up.
However, the call was captured as part of a routine wiretap of Kislyak's communications, and last week nine current and former U.S. officials told the Washington Post that transcripts show Flynn made explicit references to election-related sanctions. Flynn walked back his previous denial and, by Monday afternoon, his future in the administration was uncertain — so much so that Kellyanne Conway said on MSNBC that Flynn had the "full confidence" of President Trump just before Spicer said the president was "evaluating the situation."
Then, around 9 p.m., there were two new bombshells. The Post reported that last month acting attorney general Sally Yates told the Trump White House that Flynn had misled them about the calls, and was potentially vulnerable to Russian blackmail. In the final days of the Obama administration Yates conferred with James Clapper, the director of National Intelligence at the time, and John Brennan, who was then CIA director, and they agreed that they should share their concerns about Flynn with the Trump administration.
Yates informed White House counsel Donald McGahn, but it's unclear what he did with the information. She was later fired for defying Trump's executive order on immigration. A source tells Politico her briefing on Flynn did not play a role in her dismissal.
Meanwhile, the New York Times reported that the Army has been investigating whether Flynn received money from the Russian government during a trip to Moscow in 2015, which may violate the Emoluments Clause of the Constitution. As reported last month, U.S. intelligence agencies were already looking at Flynn's communications as part of an investigation into Russia's attempts to influence the U.S. election.
While Flynn received a security briefing from the Defense Intelligence Agency before his trip to Russia, defense officials said he may not have filed the required paperwork. They were reportedly surprised when video surfaced of Flynn seated next to Russian president Vladimir Putin at a dinner honoring RT, the state-run Russian news organization. As TPM notes, Flynn has publicly admitted that he was paid to speak at the event.
A senior White House official told the Post that Trump was planning to wait several days to make a decision on Flynn, but he chose to resign owing to "the cumulative effect" of negative news coverage. "There obviously were a lot of issues, but the president was hanging in there," the official said. "Buying some time was part of the plan, and I think Flynn just figured, if it's imminent to the boss, then let's make it immediate."
However, the Times reported that White House chief strategist Steve Bannon asked for Flynn's resignation, which he has been pushing for since Friday.
The White House said General Keith Kellogg, who most recently served as National Security Council chief of staff, will be the interim national security adviser. In addition to the drama surrounding Flynn's calls to the Russian ambassador, the Times reported over the weekend that the National Security Council has been in disarray under his management.
Prior to Flynn's resignation, Politico reported that the White House was looking at potential replacements. Kellogg, Vice-Admiral Robert Harward, former deputy commander of the U.S. Central Command, and retired general David Petraeus are said to be under consideration. Petraeus, who was convicted in 2015 of passing classified information to his mistress, is scheduled to meet with Trump at the White House on Tuesday.
While Democrats were pleased by news of Flynn's resignation, they said many questions remain unanswered. Representative Adam Schiff, the ranking Democrat on the House Intelligence Committee, noted that the committee is still investigating the Trump campaign's alleged ties to Russia.
"The Trump Administration has yet to be forthcoming about who was aware of Flynn's conversations with the Ambassador and whether he was acting on the instructions of the president or any other officials, or with their knowledge," Schiff said.
Democratic representatives John Conyers Jr. and Elijah Cummings called for a classified briefing by the Justice Department and FBI over the "alarming new disclosures" about Flynn. "We need to know who else within the White House is a current and ongoing risk to our national security," they said.
Republican representative Devin Nunes, who chairs the House Intelligence Committee, did not seem interested in pursuing the matter. On Monday afternoon, he predicted Flynn would keep his job, saying, "It just seems like there's a lot of nothing there."
He continued defending Flynn, even after his resignation. "Washington, D.C., can be a rough town for honorable people, and Flynn — who has always been a soldier, not a politician — deserves America's gratitude and respect for dedicating so much of his life to strengthening our national security," Nunes said in a statement. "I thank him for his many years of distinguished service."
This post has been updated throughout.