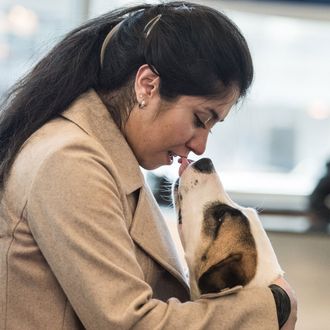 Nazanin Zinouri and her dog, Dexter, are reunited.
Photo: Sean Rayford/Getty Images
Nazanin Zinouri came home to the United States this week after spending a week banned from entering the country as a result of the Trump administration's travel ban. Zinouri, a graduate of Clemson University's Ph.D. program and an engineer who has lived in the United States for the past seven years (employed in the U. S. on a work visa), was unable to get back into the country after returning to her native country, Iran, to visit her family. "No one warned me when I was leaving, no one cared what will happen to my dog or my job or my life there," she wrote on Facebook, after being refused from boarding a flight from Dubai to Washington, D.C. "No one told me what I should do with my car that is still parked at the airport parking. Or what to do with my house and all my belongings."
On Sunday, Zinouri touched down in Boston. And on Monday, she was finally able to get home to South Carolina, where her dog, Dexter, was waiting to welcome her home, and also make us all weep.
This isn't the first instance of Puppy Twitter tweeting more substantive content, rather than the usual pictures and GIFs of fluffy animals, since Trump was inaugurated. Both @dog_rates and @EmergencyPuppy have started using their platforms to critique, if subtly, the current administration. Good dogs … now just slightly more political.