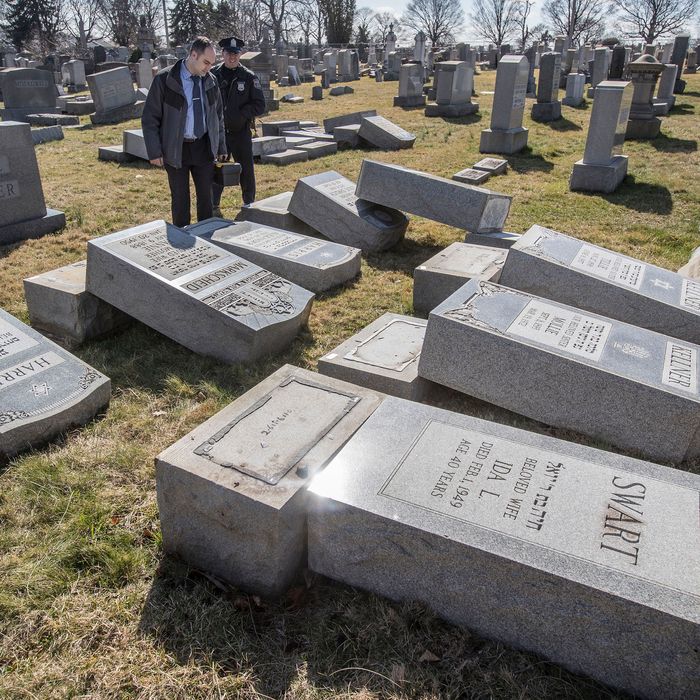 Police investigating the scene on Sunday.
Photo: Michael Bryant/The Philadelphia Inquirer/AP
As many as 100 headstones were knocked over at a Jewish cemetery in Philadelphia overnight Saturday in what may have been an anti-Semitic hate crime. The Philadelphia Inquirer reports that some 75-100 headstones were found lying on the ground at the Mount Carmel Cemetery in the city's Wissinoming area on Sunday morning, and that there is no evidence of similar damage at the three apparently Christian cemeteries which are adjacent to Mount Carmel.
"This is beyond vandalism," one police captain told the Inquirer after surveying the damage. No arrests have been made, and police do not appear to have identified any suspects. A GoFundMe account has been launched to solicit donations to help repair the damage, and that effort was already underway on Sunday:
The Anti-Defamation League and the Anne Frank Center for Mutual Respect have spoken out against the crime, which they link to an escalating series of anti-Semitic incidents throughout the country over the past few months. Just last week, 154 headstones were found knocked over at a Jewish cemetery in a suburb of St. Louis, Missouri. Police say they haven't found any evidence to suggest that vandalism was a hate crime, but they haven't ruled it out either.
Vice-President Mike Pence visited the Missouri cemetery last Wednesday to condemn the crime and anti-Semitism more broadly, and that followed President Trump breaking his much-criticized silence on the issue the day before.