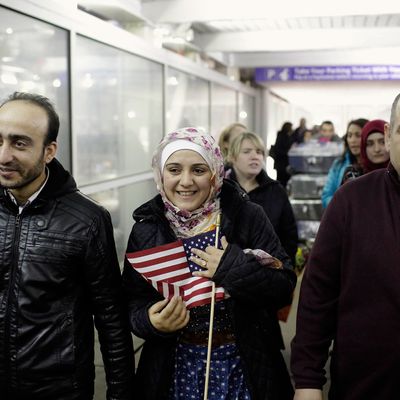 Trump's series of legal defeats over his sloppy travel ban are finally leading to a do-over.
Photo: Joshua Lott/AFP/Getty Images
Buried in the bluster and sheer sensation of the president's 80-minute press conference on Thursday was his admission that his administration was preparing a revised travel-ban executive order, essentially conceding defeat on the legal front even as Trump himself continued to attack the Ninth Circuit Court of Appeals for thwarting his will. The decision to throw in the towel and try again was formalized by a Justice Department filing with the Ninth Circuit that reiterated the administration's arguments against an easier ruling by a three-judge panel refusing to reinstate the ban, but indicated "the president intends in the near future to rescind the order and replace it with a new, substantially revised executive order to eliminate what the panel erroneously thought were constitutional concerns."
That means Trump's legal beagles have decided against appealing the ruling to the full Ninth Circuit or to the U.S. Supreme Court. And in fact, a new version of the sloppily drafted original order could avoid some of the flaws the courts earlier identified. The most obvious revision will be to exclude people with permanent resident status from the ban, which the White House tried to do by a "clarification" that had no legally binding power. But the new order could also make special provisions for other categories of otherwise excluded noncitizens who might obtain standing to challenge it on due process grounds, such as students and faculty currently at U.S. colleges and universities (the primary basis for the state challenges to the ban that gave rise to the order District Court Judge James Robart issued freezing it).
One problem the administration cannot, however, avoid with a "do-over" is the legal effect of the president's (and his advisers') remarks during the 2016 campaign that they wanted to impose a ban on entry to the United States of Muslims, a pretty blatantly unconstitutional aspiration. The Ninth Circuit panel held that those remarks did in fact create legitimate doubts about the constitutionality of the order on grounds of religious discrimination, though it did not reach a conclusion on the subject. The Justice Department's latest filing argued adamantly against consideration of statements made when Trump was a "private citizen."
Couched in legalese, the Justice Department is basically saying that campaign promises cannot be used to interpret a president's actions in a way that restricts his "national security" powers. It's unlikely the Ninth Circuit (which has suspended its review of the case pending the new order) would agree. But more than likely the administration is anticipating an ultimate Supreme Court review of this issue once the new order is released and litigation resumes. So there is plenty of legal maneuvering ahead, likely punctuated with more explosions of rage at the judiciary from Donald Trump.