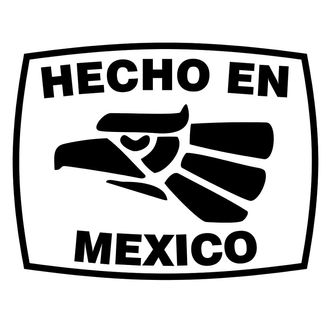 The "constructive and productive" phone call last Friday between Donald Trump and Mexican president Enrique Peña Nieto may have been a little more tense than originally advertised. And though Trump's attention has shifted from the border wall to feuds with Iran, key ally Australia, and Arnold Schwarzenegger, Mexico's president has also been keeping busy.
On Wednesday, the Mexican president announced a series of manufacturing and business initiatives that push back against Trumps's rhetoric, particularly on the issue of trade. Officials called it the "Made in Mexico" event, so billed because one of Nieto's big initiatives includes a manufacturing P.R. push by reviving this flashy "Hecho en Mexico" (Made in Mexico) stamp, which will be placed on all those great products that —catch this? — were produced in Mexico. What's made here, President Nieto said, "is a symbol of quality and source of pride for all." The president described the seal as something that would give competitive edge to Mexican products: "When someone sees a product with the mark of the Mexican eagle," he said, "they will be certain that this is a product well made and made in Mexico."
Nieto is pretty unpopular, but the spat with Trump over the border wall has galvanized the country — something the Mexican leader appears to be taking full advantage of right now. In his statement, Nieto also extolled Mexico's economy as a model of "openness and competition," and mentioned a few of the country's top exports — from flat-screen televisions to refrigerators to, yes, avocados. In the future, these products might arrive in the U.S. with a passive-aggressive new label.
Nieto also spoke of a push to make Mexico even more friendly to the private sector, including international investors. The president said that as of next month, for every regulation passed, two others would be eliminated. That should sound familiar.
Finally, Nieto also offered the first hints at an official timeline for Nafta negotiations. The president outlined a 90-day consultation period — starting now – between the Mexican government and businesses — which would also happen simultaneously in the United States. After that, talks would begin, but no earlier than May.
But Trump, at a meeting with senators in the White House, said Thursday that he wanted "to speed up" Nafta talks. "I want to change it. And maybe we do it — maybe we do a new Nafta with an extra 'F' in the term Nafta. You know what the 'F' is for, right? Free and fair trade," Trump said. "Not just free trade. Free and fair trade. Because it's very unfair." The president added that Wilbur Ross, Trump's billionaire nominee for Commerce Secretary, would represent the U.S. in Nafta discussions.