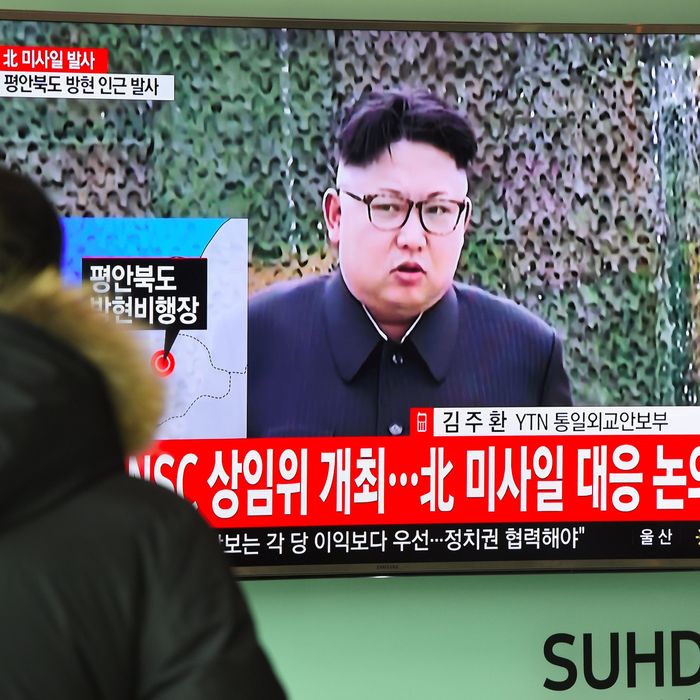 A South Korean news report about the missile launch.
Photo: Jung Yeon-Je/AFP/Getty Images
North Korea test-fired a ballistic missile on Sunday, marking Pyongyang's first such provocation during the presidency of Donald Trump. The medium- or intermediate-range ballistic missile landed in the Sea of Japan, but did not reach Japan's territorial waters. North Korean leader Kim Jong Un had recently warned that his regime was ready to test an intercontinental ballistic missile (ICBM) capable of reaching the U.S., but U.S. Strategic Command says Sunday's missile posed no such threat, and reportedly traveled only 310 miles.
Japanese prime minister Shinzo Abe, who is spending the weekend with President Trump at Trump's private Mar-a-Lago Club in Florida, appeared with Trump at an odd, hastily arranged press conference on Saturday night to denounce the test. Trump had been previously asked about the test during a photo opportunity with the media on Saturday night, but did not respond to the questions. Then, an hour later, the media was asked to reassemble for a two-minute press conference during which Abe said, through a translator, that North Korea's missile launch was "absolutely intolerable" and called on the rogue state to comply with U.N. Security Council resolutions banning the country from pursuing such weapons. Abe also explained that Trump had assured him that the U.S. would always be with Japan "100 percent" and that Trump was appearing with him to demonstrate that commitment.
Trump then added, without mentioning North Korea or the missile test, that "I just want everybody to understand and fully know that the United States of America stands behind Japan, its great ally, 100 percent." The pair of leaders then left the press conference without taking questions from reporters.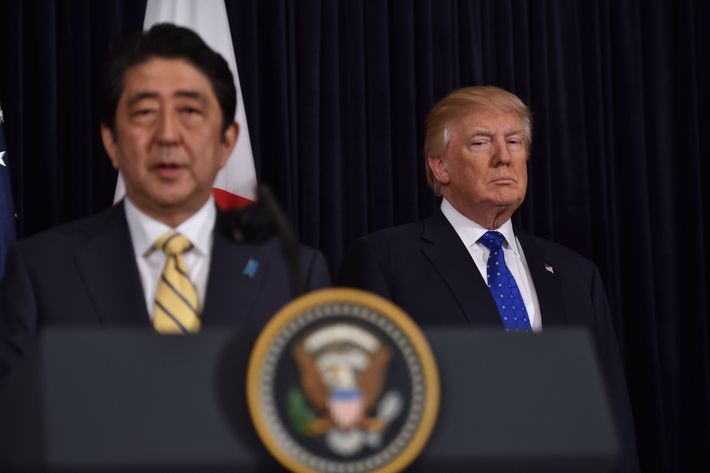 During the Obama administration, President Trump had ridiculed the government for not being able to prevent such tests:
He also rejected Kim Jong Un's ICBM-readiness prediction back in early January (though the North Korean leader had only said they were ready to test an ICBM, not a nuclear ICBM):
Looking at the president's other comments on the region, Trump has repeatedly insisted that South Korea (and Japan) should have to pay the U.S. for protection against North Korea, or that the longtime U.S. ally should have to start protecting itself. He has also falsely stated that South Korea doesn't pay anything for the military bases that the U.S. operates in the country. Trump seemed to immediately reverse himself on these opinions following his election, but did not mention South Korea on Saturday night.
Following the launch, acting South Korean president Hwang Kyo-ahn said that he and the international community "are working together to take punitive actions appropriate for this launch." Trump's national-security advisor, Michael Flynn, apparently condemned the test when speaking with South Korean officials, and said that the U.S. would "seek all possible options" to prevent future launches, according to Kyo-ahn.
North Korea has been trying to advance its long-range and nuclear weapon capabilities for some time and conducted two nuclear tests and numerous rocket launches last year. They have never successfully tested an ICBM.