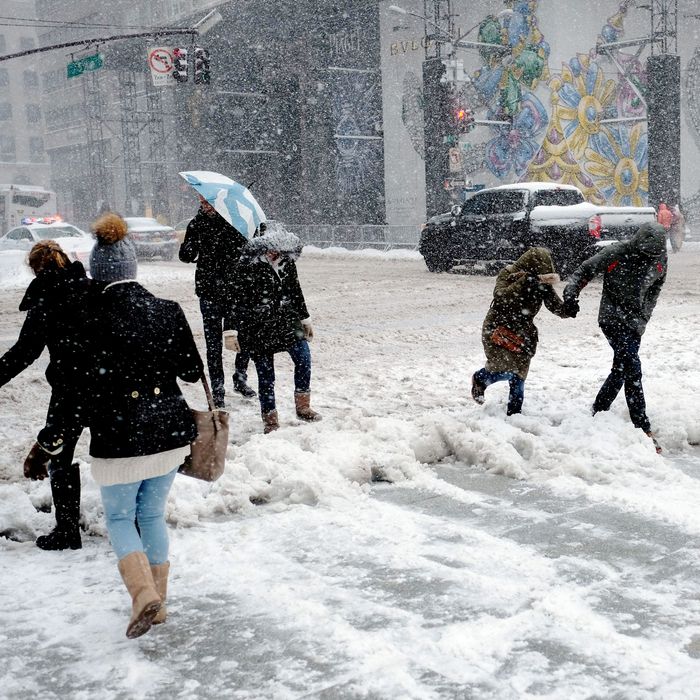 Photo: Jewel Samad/AFP/Getty Images
The results are in: Central Park logged 9.4 inches of snow as of 4 p.m., and with the snow mostly out of here, that's about as much as Manhattan is going to get — though it's still the largest snowfall of the season. Parts of Connecticut and Long Island, where the last flakes are falling out in Suffolk County, got more than a foot. Areas in eastern Queens also hit the 12-inch mark.
New England got hammered by this so-called Winter Storm Niko. Boston recorded its first official blizzard since January 2015, according to the National Weather Service.
New York City deployed 2,300 salt spreaders and plows to clear the thousands of main and side streets. Wet, slushy roads are at risk of refreezing overnight because of the plummeting temperatures (lows in the teens, with single-digit wind chills), so officials are still urging caution and asking people to stay off the roads, if possible, because of black ice. Pedestrians should also be careful on those sidewalks.
The New York City subway mostly survived the snowstorm. There were a few delays and service changes across lines, so more or less a normal weekday. Bus are taking some detours, and regional rail lines — LIRR, Metro North, and New Jersey Transit — are running, though there have been some cancellations and delays. Thousands of flights out of JFK, LaGuardia, and Newark were canceled. But sorry, kids: Schools will be open Friday.
New York did witness one storm-related death, after an Upper East Side doorman slipped on a step and fell through a window. The 59-year-old had just finished shoveling snow when he tumbled headfirst into the window, shattering the glass, which cut him across the throat.