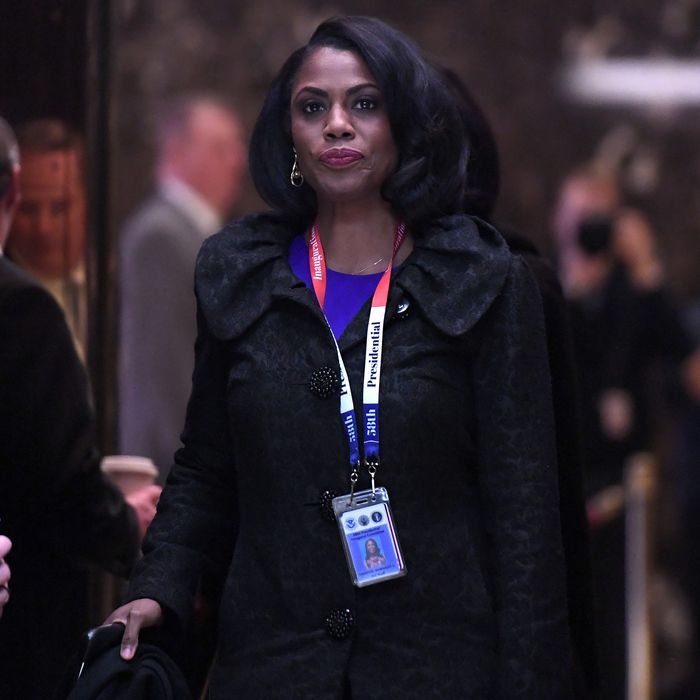 Omarosa Manigault in Trump Tower on January 16, 2017.
Photo: BEHAR ANTHONY /SIPA USA/Bloomberg via Getty Images
As top Trump administration officials are caught up in the drama surrounding National Security Adviser Michael Flynn's resignation, White House communications official Omarosa Manigault is embroiled in a controversy true to her reality-TV roots.
April Ryan, American Urban Radio Networks' White House correspondent, claims Manigault, a White House communications official, "physically intimidated" her last week during an argument just outside the Oval Office. Ryan said Manigault also mentioned that the White House keeps dossiers of negative information about Ryan and several other African-American journalists.
On Tuesday, Manigault tried to disprove these allegations by sharing parts of a recording of the dispute with reporters.
"She came in [to the White House press-staff area] hot," hurling insults, Manigault told the Washington Post. "She came in with an attitude. For her to characterize me as the bully — I'm so glad we have this tape … because it's 'liar, liar, pants on fire.'"
Rather than resolving the matter, the recording raised new questions about how it was obtained. "I didn't know she was taping it," Ryan said. "This is about her trying to smear my name. This is freaking Nixonian."
Manigault said "a colleague" made the tape, and claimed that the White House press staff regularly records interviews between officials and journalists. "We do it all the time," she said. "When you come into [the press staff's offices], you're on the record."
Several White House reporters told the Post that interviews are sometimes recorded, but never without the journalist's knowledge. Washington, D.C., has a "one-party consent" law, so it's legal to tape a conversation if at least one person knows they're being recorded.
Fox News White House reporter John Roberts, one of the journalists who listened to the recording, said he heard terse words and accusations, but he wouldn't characterize the conversation as a confrontation. He said he didn't hear the word dossier, but parts of the recording were hard to make out.
Ryan claims that Manigault "selected pieces" of their conversation. "She wants to spin it like it's a catfight, but she edited that tape," she said. "You don't hear her screaming. This is about her smearing me."