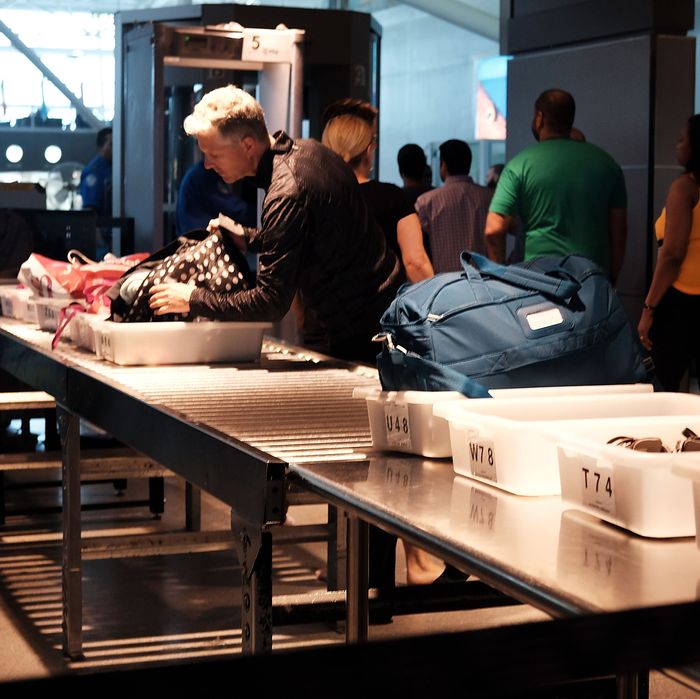 Don't worry, TSA has layers of security "both seen and unseen."
Photo: Spencer Platt/Getty Images
The TSA accidentally let several people waltz through a security checkpoint without being properly screened on Monday morning — and to make matters worse, it took the agency two hours to alert police to the security breach.
Around 6 a.m., 11 passengers walked through a TSA Precheck security checkpoint in Terminal 5 without being checked by a TSA agent. "The screening lane was unmanned, but passengers didn't know, so they started going through it," a source told the New York Post.
Three people set off metal detectors, but no one stopped them. "Early reports indicate three passengers did not receive required secondary screening after alarming the walk through metal detector," the TSA confirmed in a statement. "All personal carry-on bags received required screening. A K9 team was present at the checkpoint at the time of the incident."
The Port Authority of New York and New Jersey said that the TSA didn't inform them of the security breach until 8 a.m. Images of the passengers were pulled from security footage and police attempted to find them, but at that point, "travelers in question boarded various flights," according to the Port Authority.
Eventually the three people who set off the metal detectors were identified as passengers on a flight bound for San Francisco, and they were screened upon arrival.
While several travelers passing through JFK said they found the incident scary, the TSA tried to assure everyone that there's no cause for concern.
"TSA works with a network of security layers both seen and unseen," the agency said. "We are confident this incident presents no threat to the aviation transportation system. Once our review is complete, TSA will discipline and retrain employees as appropriate."