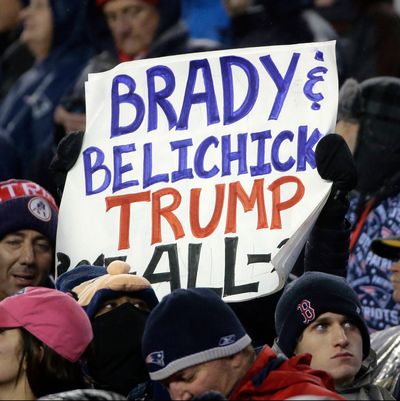 These Patriots fans saw the Trump connection back on Sunday, January 22, 2017.
Photo: Steven Senne/AP
This year's Super Bowl was steeped in politics long before the game started, with controversies erupting over everything from President Trump's close relationship with the Patriots to pro-immigrant commercials. But apparently it wasn't enough to have the specter of the 2016 election hanging over the game; America had to watch the Patriots and the Falcons do a live reenactment of Election Night.
The first half of the game looked like a blowout for the Falcons, with Atlanta racking up a 21-3 lead before Lady Gaga's subtly subversive halftime show. In the third quarter, Falcons quarterback Matt Ryan threw a second touchdown pass to Tevin Coleman. Along with the extra point, that touchdown brought the score to 28-3.
No team has ever trailed by more than ten points and come back to win the Super Bowl. Nate Cohn of the New York Times' Upshot noted that New England's chances of winning were even worse than Donald Trump's.
Then New England, and the nation's PTSD, came roaring back. In the third quarter, Patriots running back James White scored the team's first touchdown of the game, bringing the score to 28-9. Then, in the fourth quarter, the Patriots racked up 19 points, including two two-point conversions. Suddenly everyone on Twitter started flashing back to the night of November 8.
Julian Edelman set up the touchdown that would tie the game with one of the greatest catches in Super Bowl history. Falcons cornerback Robert Alford deflected a pass meant for Edelman, but he caught it just inches above the ground.
With the game tied 28-28, the Super Bowl went into overtime for the first time ever. The Patriots won the coin toss, then quarterback Tom Brady led a 75-yard touchdown drive. Running back James White clinched New England's victory with a 2-yard run for a final score of 34-28. At five titles each, Tom Brady now has the most Super Bowl wins of any quarterback, and coach Bill Belichick has the most of any head coach. (In another election tie-in, Belichick suggested before Sunday's game that Trump may be able to help him retrieve the Super Bowl ring Russian President Vladimir Putin stole from him in 2005.)
The night had one more surprise in store. Despite everyone comparing the Patriots' comeback to Trump's — and his pre-game prediction of an eight-point victory for New England nearly coming to fruition — President Trump said nothing about himself in his congratulatory tweet:
One possible explanation: Trump didn't actually watch the Patriots' historic comeback. WCVB reports that he left the Mar-a-Lago Super Bowl party around 9 p.m., when the Patriots were still losing.