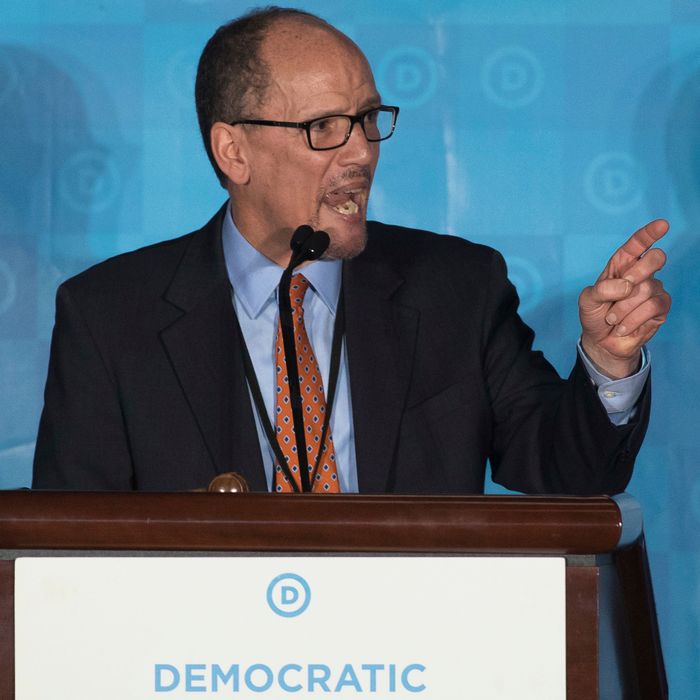 Former Labor Secretary Tom Perez, who won the DNC chair on the second ballot, and then named rival Keith Ellison deputy chair.
Photo: Branden Camp/AP
It was, as advertised, a very close vote, requiring a second ballot. But in the end, former Labor Secretary Tom Perez defeated Rep. Keith Ellison and an assortment of dark horses with 18 votes more than he needed to become chair of the Democratic National Committee at the party's winter meeting in Atlanta.
There was some drama, as one dark horse, South Bend mayor Pete Buttigieg, dropped out just before balloting began. He did not endorse either of the front-runners, but one of his most visible backers, Howard Dean, switched his support to Ellison. There was also grumbling from the Ellison camp when Acting Chair Donna Brazile announced the electronic-voting system set up for the election would not be used out of fears of external interference. After the first ballot, Perez was just one vote short of the 218 needed, but Ellison was in striking distance with 200 votes.
In the end, Perez, who had a progressive reputation but had become the favorite of party centrists and loyalists to Barack Obama and Hillary Clinton, had just enough broad support to edge Ellison 235-200. The Minnesota congressmember was very much the candidate of the Bernie Sanders camp and of other Democrats who thought retaining and mobilizing the energy of Sanders supporters was critical to the immediate future of a party fighting Donald Trump.
When Brazile announced Perez's win, there were scattered chants of "Not big money, party for the people." But there was mostly silence in opposition to the motion to make the election unanimous.
Now the unity gestures will begin, though you can be sure media, Democrat-friendly and -unfriendly, will be on the lookout for angry veterans of the Bern who are unreconciled to another victory for the Democratic Establishment. One source of disgruntlement may be a vote taken just before the balloting for chair in which a resolution restoring a ban on corporate donations to the DNC was tabled.
But Perez moved quickly to close the ranks, asking and receiving unanimous consent to name Ellison deputy chair of the DNC, an appointed position. Ellison promptly provided Perez with a brief unity pitch, calling further factional conflict a waste of time and energy.
The DNC is now going through the time-consuming process of electing its lower-level officers. But in the hallways of the Peachtree Plaza Hotel where Democrats meet, there will be a continuing saga of efforts made, accepted, or rejected to put this contest behind a party that needs a breather from any struggle for its soul.