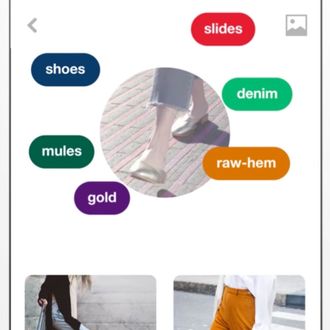 This week, Pinterest introduced Lens, a new feature on its mobile app that allows for visual search. Just point your camera lens at something and the app will tell you what it is, it's like an adult human's brain, but not quite as good.
Pinterest, whose user base primarily consists of anyone planning a wedding between 2010 and 2013, envisions many different use cases for this app. "Just point Lens at a pair of shoes, then tap to see related styles or even ideas for what else to wear them with," their announcement blog post says. That's cool!
"In a demonstration," recalls Casey Newton of The Verge, "Pinterest co-founder Evan Sharp used Lens to detect a pomegranate. Pinterest returned results for pomegranate bread, pomegranate sandwiches, and tips for peeling pomegranates." So, the next time you've got too many pomegranates, you know what to do: open up the Lens app and take a picture of all of those dang pomegranates. It's rolling out on mobile devices starting today.