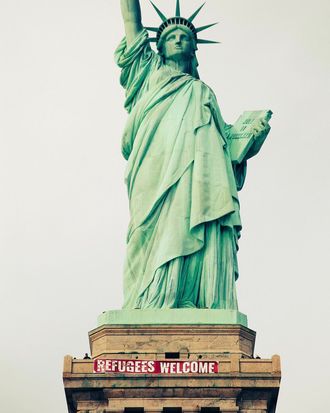 Photo: @AltStatLiberty/Twitter
"Refugees Welcome," the Statue of Liberty declared Tuesday afternoon, when a group unfurled a banner across the pedestal of the monument just before 1 p.m. "We have no formal group, but are just private citizens who feel that the principles that make America great are under attack," the protesters, who used the name Alt Lady Liberty on Twitter, told Daily Intelligencer in an email. "Some of us have never done anything like this before but felt the need to act now."
Visitors to Lady Liberty documented the protest, which made it a few hours Tuesday afternoon until it was removed.
"The travel ban flies against who we are as Americans. Refugees are welcome here, Muslims are welcome here, and immigrants are welcome here," the person behind the Alt Lady Liberty account said about the motivation for hanging the banner. "We wanted to send a reminder about America when we're at our best — the country that's a beacon of freedom to the world, built by immigrants. Walling of countries or entire religions is against our values."
The protest came just as the Trump administration released new memos outlining stricter immigration policies, though they're separate measures from last month's travel ban, which temporarily barred citizens from seven predominately Muslim countries from coming to the United States and suspended refugees for 120 days, except for Syrian refugees, who faced indefinite suspension. That order was blocked by the Ninth Circuit Court of Appeals, but the White House is working on a new order to try to avoid such legal challenges.