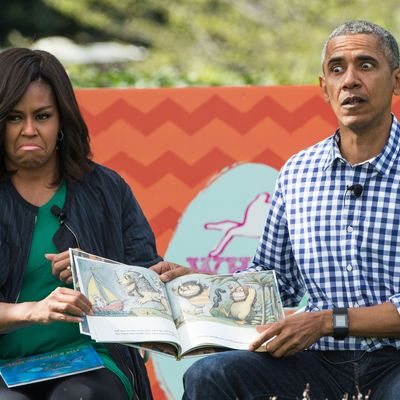 $60 million?!?
Photo: Nicholas Kamm/AFP/Getty Images
The Obamas' memoirs have reportedly sparked a record-setting $60 million bidding war. The Financial Times reports that Barack and Michelle are writing separate books, but are selling the rights jointly, and publishers are tripping over themselves to be the one to get them both.
Major publishers are vying to close a deal, though Penguin Random House is reportedly in the lead. (Simon & Schuster, Macmillan, and HarperCollins, which is owned by Rupert Murdoch's News Corp., have apparently made overtures.) The Obamas were expected to get a multi-million-dollar book deal, but this alleged $60 million figure far outstrips any of the recent post-presidential tomes that end up on the Barnes & Noble sale table. Bill Clinton got $15 million for My Life, published in 2004; George W. Bush received $10 million for Decision Points, which came out in 2010.
The competition for the Obamas' is particularly fierce because Barack can actually write, and already has best-selling books to his name, including Dreams From My Father and The Audacity of Hope. Michelle Obama published a book about the White House garden in 2012, and has carved out a reputation as a strong, and eminently quotable, speechwriter in her own right.