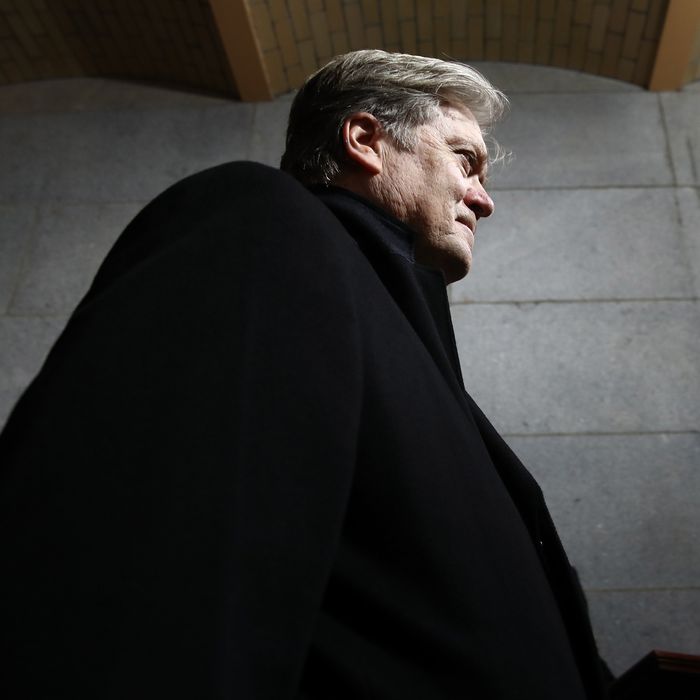 Bannon may have been trying to give orders that not everyone was interested in taking.
Photo: Win McNamee/Getty Images
Chief White House strategist Steve Bannon tried to order Department of Homeland Security secretary John Kelly to not issue a waiver exempting green-card holders from President Trump's travel-ban executive order, according to a report — which the White House is denying — in the Washington Post. Per two Trump administration officials who spoke with the Post's Josh Rogin, Kelly apparently rebuffed the attempt, telling Bannon that he only takes orders from the president. The president never weighed in, and Kelly went ahead and issued the waiver, which was made public on Sunday night, ending two full days of confusion and chaos around the question of whether or not permanent U.S. residents from the seven predominantly Muslim nations included in the ban would be allowed to reenter the country. The White House itself then confirmed that green-card holders were exempt from the order on Tuesday.
Rogin's post has undergone a series of revisions since it was published early Saturday, mainly because he didn't request comment from the White House before publishing the story, and once the White House weighed in, press secretary Sean Spicer denied most of what Rogin's sources had reported. Despite the revisions, Rogin and the Post seem to be standing by the central thrust of the piece — that two administration officials say that Bannon and Kelly had a disagreement over issuing the waiver for green-card holders, and Kelly told Bannon that only President Trump could order him to back off on the waiver. Originally, the Post report said that Bannon had even made an unscheduled visit to Kelly's office on Saturday over the issue, but that was later removed from the story. Spicer and Bannon both deny that any confrontation ever occurred, and Spicer went so far as to tell the Huffington Post that the whole report a "patently false, made up story" and that it was "unbelievably unprofessional" for Rogin and the Post to not seek comment from the White House before publishing.
That being acknowledged, Rogin's unnamed sources also said that cabinet officials had banded together during a 2 a.m. phone call among senior White House staff on Sunday to oppose the haphazard way the president's executive order had been conceived and implemented by the White House's growing Breitbart wing, Bannon and White House senior policy adviser Stephen Miller. Then at a larger meeting on Sunday, White House Chief of Staff Reince Priebus ordered a temporary suspension of the issuing of additional executive orders until better procedures — as in ones that were inclusive of more White House voices — could be put in place. (Rogin originally reported that Trump himself had made that decision, but apparently it was Priebus, and Spicer denies that a pause was ordered — just new procedures.)

If Rogin's reporting is accurate — and again, the White House insists it's not — Bannon would seem to have lost an important early power struggle, though not for lack of trying. Last weekend, CNN reported that the DHS had finished a legal analysis of the travel-ban order on Friday and concluded that it did not apply to green-card holders, but that the White House, and more specifically Bannon and Miller, had overruled that conclusion. On Friday and Saturday, Trump administration officials ended up sending mixed signals as to whether or not permanent residents were to be allowed onto planes to the U.S., as well as whether or not they would face extra screening, or have to apply for a waiver somehow, to gain re-entry to the U.S. As a result, many of these travelers were stranded and detained, ultimately for no reason.
According to Rogin's sources, Bannon — who has previously indicated that he would like to get rid of all legal immigration — attempted to intervene with Kelly over the issue at some point over the weekend, possibly in addition to the attempts at shaping the implementation of the ban that are reflected in CNN's reporting. Rogin's story also ties in with this week's TIME cover story asserting that Bannon's contributions to the tumult of the new administration's first few weeks "has rattled the West Wing and perhaps even dismayed the President," and that the controversy was leading to a slowing of the pace of the new administration's agenda.
Though some in the White House have tried, there is virtually no way to spin the disastrous rollout of the travel ban as a success — unless confusion, mass protests, and inner-circle backstabbing was the desired outcome. Several reports have indicated that the travel-ban order was hastily and incompetently written, barely reviewed, and implemented and communicated with next to no planning. So far, the blame seems to have landed on the Trump administration's Breitbart wing. And while there doesn't seem to be any evidence of Bannon or Miller's influence diminishing, there are at least some indications that other White House cabinet members are pushing to confront them.
Then again, it's also important to realize that, as The Atlantic's Rosie Gray points out, most of these unnamed Trump officials are leaking negative stories about Miller and Bannon in an attempt to limit their influence in the administration. Indeed, it should go without saying that almost every leak that comes from these White House or Trump administration officials (who always wish to remain anonymous) should be understood as having some ulterior motive beyond simple transparency with the public. Understanding that, the fact that the Breitbart wing is being widely and specifically scapegoated for the travel-ban fallout likely illustrates how powerful it has already become.
This post has been updated throughout to reflect multiple revisions to the underlying Washington Post story, as well as denials of major aspects of the reporting from the White House.