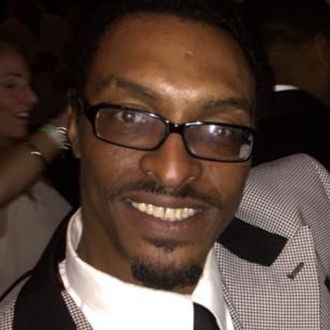 The son of arguably the most famous Muslim-American in history says he was detained by immigration officials when reentering the U.S. earlier this month. Forty-four-year-old Muhammad Ali Jr., a native-born American citizen, claims he was detained and questioned after arriving at Fort Lauderdale–Hollywood Airport on February 7, according to a family friend and lawyer who reported the incident to the Louisville Courier-Journal and Miami New Times. Ali Jr. was apparently held up for nearly two hours, during which time he was asked, "Where did you get your name from?" and "Are you a Muslim?" by officials. His mother Khalilah Camacho-Ali, the famous boxer's second wife, was also briefly detained but then released after producing a photo of her and her former husband.
The mother and son were returning to the U.S. from Jamaica, where they had attended a Black History Month event in Montego Bay. It's not clear why their experience was not made public until now.
According to Chris Mancini, the family friend and former federal prosecutor who passed along the incident, Ali Jr. did not have a photo of himself with his father and was separated from his mother at the airport and then twice asked about his religion by officials.
A spokesperson for U.S. Customs and Border Protection told the New Times that she could not confirm or discuss the individual case due to privacy laws, but noted that "all international travelers arriving in the U.S. are subject to CBP inspection."
Mancini believes that Ali Jr.'s experience was an example of federal officials seeking to enforce President Trump's January 27 travel ban — which targeted the foreign nationals of seven predominantly Muslim nations — even after the ban was blocked by federal courts. "What right does the United States have to inquire about somebody's religion when they enter the country?" he remarked to the New Times, further claiming that "the government is still trying to find grounds to keep Muslims out."
Ali Jr. was born in Philadelphia and does not have a criminal record. The Ali family is apparently considering a lawsuit over the incident.