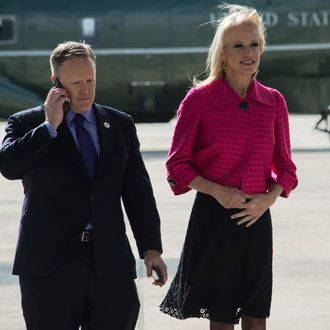 Spicer and Conway.
Photo: Nicholas Kamm/AFP/Getty Images
For weeks, White House press secretary Sean Spicer has been pulling double duty, as he also serves as interim White House communications director. Maybe that's why he's making egregious geographical errors. It wasn't supposed to be this way, but President Trump's chief of staff, Reince Priebus, has had a hell of time filling the role of communications director, with at least two people turning down the job, Politico reports.
There's a reason people don't want the job, Politico says, and his name is Trump. The president's chaotic management style makes the prospect of directing White House communications sound like a total nightmare. And his Twitter habit would surely undermine the work of whoever is unlucky enough to accept this job, which was supposed to go to former campaign spokesman Jason Miller until an alleged extramarital affair got in the way.
Dreadful as this job sounds, White House adviser Kellyanne Conway says the Politico report is "completely false." An adviser to the president who has picked up some of the communications slack herself, Conway said on Fox & Friends Thursday, "I know people who are interested in the job, actually, as I stand here. They've reached out to us. And I think that we'll be either interviewing or deciding what to do in that regard."