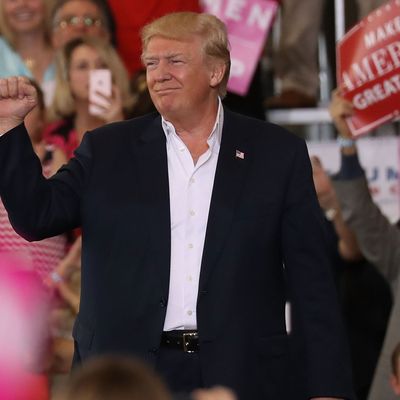 Naïve?
Photo: Joe Raedle/Getty Images
President Donald Trump likes risks, but can be naïve, according to a psychological profile being assembled for Russian president Vladimir Putin as he prepares for his first meeting with Trump. NBC News spoke with former Russian Deputy Foreign Minister Andrei Fedorov, who provided details of the dossier, and suggested that Trump "doesn't understand fully who is Mr. Putin."
"Very serious preparatory work is going on in the Kremlin, including a paper — seven pages — describing a psychological portrait of Trump, especially based on this last two to three months, and the last weeks," Fedorov told NBC News.
This type of profile on another foreign leader is uncommon, NBC News says, but Moscow knows what's at stake when Putin and Trump finally meet. Trump has suggested his openness to lifting sanctions on Russia, and the Kremlin is reportedly taking steps to ensure that happens. Among the preparations are regular updates to the profile on the American president, who many in the Kremlin think views the "presidency as a business," NBC News says.
While Putin prepares to meet with Trump, Moscow is watching Washington closely as U.S. lawmakers push for further investigations into Trump's ties to Russia. These moves have the Kremlin worried Trump will lose the political capital needed to lift sanctions or otherwise smooth relations with Russia, NBC News says.
Others in Moscow think the situation for their guy in D.C. is even more dire. Kremlin-friendly activist Sergei Markov, who called Trump's election a "great day for American democracy," is now angry at how the president is being treated. As he told NBC News, the intelligence community wants "to overthrow President Trump in a coup."