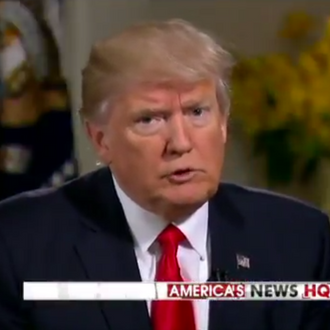 Republican lawmakers have shown a willingness to overlook a lot of Donald Trump's incendiary remarks, but would they stand up to the president if he defended Russian president Vladimir Putin by saying the U.S. has plenty of killers too? Sort of! A handful of Republicans, including Senate Majority Leader Mitch McConnell, broke with the president on Sunday, saying they do not think there's any equivalency between the U.S. and a foreign leader suspected of killing scores of journalists and political opponents.
In President Trump's pre–Super Bowl interview, he said he respects Putin and hopes Russia can help in the fight against ISIS. "But he's a killer, though. Putin's a killer," said Bill O'Reilly.
"There are a lot of killers," Trump said. "We've got a lot of killers. What do you think? Our country's so innocent?"
"I don't know of any government leaders that are killers," O'Reilly responded. "Well, take a look at what we've done too. We've made a lot of mistakes," said Trump, claiming, once again, despite the lack of evidence, that he was always against the war in Iraq. "A lot of mistakes, okay, but a lot of people were killed. So a lot of killers around, believe me."
Since President Trump's remarks about Putin were released as a preview on Saturday, Republican leaders had to address them on the Sunday shows. On CNN's State of the Union, McConnell rejected Trump's characterization, calling Putin a "thug" — though when Jake Tapper asked how he would have reacted if President Obama had made the same remarks, the majority leader said he does not intend to "critique the president's every utterance."
"I don't think there's any equivalency between the way that the Russians conduct themselves and the way the United States does," McConnell said.
"I do think America is exceptional. America is different," he added. "We don't operate in any way the way the Russians do. I think there's a clear distinction here that all Americans understand, and no, I would not have characterized it that way."
In an interview with ABC News, Senator Ben Sasse said the U.S. is nothing like the Putin regime: "The U.S. affirms freedom of speech; Putin is no friend of freedom of speech. Putin is an enemy of freedom of religion; the U.S. celebrates freedom of religion. Putin is an enemy of the free press; the U.S. celebrates free press."
"There is no moral equivalency between the United States of America — the greatest freedom-loving nation in the history of the world — and the murderous thugs that are in Putin's defense on his cronyism," he added.
Several Republicans criticized Trump's remarks on Twitter, including Senator Marco Rubio and Representative Liz Cheney.
House Speaker Paul Ryan declined to criticize Trump directly, but his spokeswoman AshLee Strong pointed to the speaker's condemnation of Putin at a CNN town hall last month. "Speaker Ryan has consistently and frequently spoken out on Russia and Putin and made his opinions well known, including the need for continued sanctions," she told the Washington Post.
Unsurprisingly, the Trump administration stood by the comments, and even had Vice-President Mike Pence defend them, arguing that somehow Trump was not suggesting the U.S. is like Putin's Russia when he said "our country's so innocent?"
"I simply don't accept that there was any moral equivalency in the president's comments," Pence said on Face the Nation. "Look, President Trump throughout his life, his campaign, and in this administration has never hesitated to be critical of government policies by the United States in the past. But there was no moral equivalency."