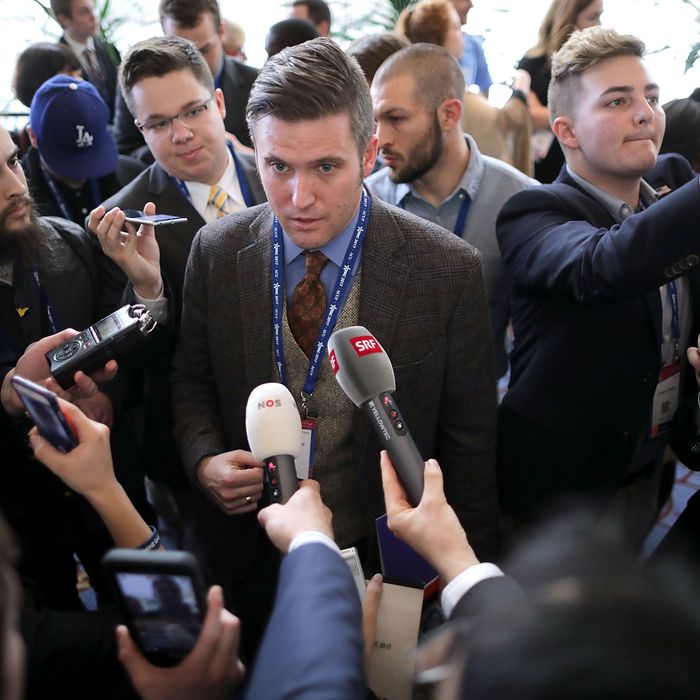 Richard Spencer.
Photo: Chip Somodevilla/Getty Images
Amid the sea of drab suits and Alex P. Keaton comb-overs outside the main ballroom of the Gaylord International Hotel, the site of the Conservative Political Action Conference, on Thursday morning, Richard Spencer's partially shaved head and tweed vest were unmistakable. The 38-year-old president of the white-supremacist National Policy Institute was dressed like a neo-Nazi's idea of an intellectual, and he was holding court at the center of a swarm of reporters who were at turns fascinated and repulsed by what he had to say.
Daryle Lamont Jenkins, founder of the One People's Project, a group that monitors racist speech, held his iPhone close to Spencer's head recording his every word. A handful of young men in blue T-shirts pushed their way to the front of the crowd to ask Spencer if he was a fan of rock music, by way of explaining that without black people, our culture would lack such fundamental joys as the Rolling Stones.
Spencer wouldn't bite. "Depeche Mode is the official band of the alt-right," he said, smiling. (In the time it took to write this article, the band actually responded: "That's pretty ridiculous," they wrote Esquire. "Depeche Mode has no ties to Richard Spencer or the alt right and does not support the alt right movement.")
But it wasn't just anti-hate-speech activists who didn't want him here. For the first time in nine years, CPAC is being held while conservatives are in power. But that doesn't mean the conference, in its first day, feels in any way unified. In place of the Obama-era chants about "taking our country back" is no sense of conservative triumph. Instead, the conference has been a display case of sorts for a fractured political party struggling to define its identity in the era of an administration that many of its own members didn't want. Not helping matters is the fact that there was a suicide across the street this morning, and the Gaylord's perimeter is decorated by police tape.
Usually, electoral victory binds a party; but the CPAC lineup this year reflects all the fault lines of the Republican primary. Last year, Donald Trump canceled his appearance after rumors circulated that a walkout was to be staged during his speech. This year, although he is scheduled to speak, the guest list also includes people his diehard fans regard as "Never Trump-ers," like Katie Pavlich, Dana Loesch, Mark Levin, and Michael Reagan.
CPAC had attempted to bridge the divide between Establishment conservatives and the alt-right by extending a speaking invitation to alt-right poster boy Milo Yiannopoulos, but it backfired spectacularly as it was revealed that the media personality had defended sex between underage boys and older men. In his absence, Spencer — who condemned Yiannopoulos for those comments — purchased a ticket for $150, he told me, much to the ire of conservatives at the conference who believe he reflects poorly on them. "The only reason journalists are obsessed with covering Richard Spencer," David Harsanyi, of the Federalist, tweeted, "is to smear conservatives."
Back in the scrum, Spencer was reviewing Trump's first few weeks in office, which he noted had been defined by "problems" with "implementation."
In some ways, he analysis was sound. He said the "government" and the "deep state" were "opposed to the president," which he called "something like a civil war." Still, he said, Trump had been "high energy" and trying his best to follow through on his promises on "the existential issues" rather than things the alt-right doesn't care about, like school vouchers. "There's a lot of reason for hope," he said.
And then, suddenly, "Excuse me, excuse me, excuse me!"
A large security guard cut in.
"You're not welcome on the property," he told Spencer.
Spencer looked shocked. "I'm not … welcome on the property?" he asked, incredulous.
"They want you off the property," the guard said. "They want you to cease. They want you off the property."
"Uh," Spencer said. "Can they —"
"Enough of debate," the guard said. "This is private property and CPAC wants you off the property."
"Are you gonna escort me out?" Spencer asked.
"That's correct," the guard said. "Let's go."
Spencer seemed upset at first, uttering "wow" as he moved down the hallway toward the exit. Another security guard approached, asking him to "surrender" his credential from around his neck. "You have to surrender them, wow," Spencer said.
"They can do whatever they want," he added. "If they want to throw me out they can … It's kind of pathetic."
But as the crowd of media surrounding Spencer grew to include a cable news camera, his frustration seemed to give way to pride.
"Free Spencer," he said, "hashtag."