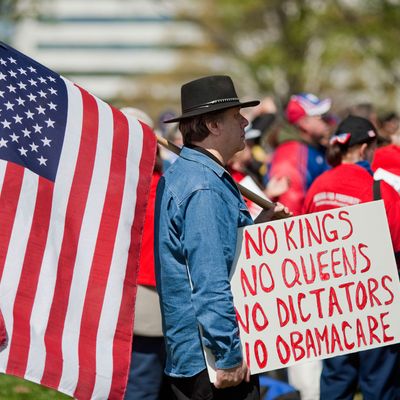 House conservatives reminding their legislative leaders the base wants radical change in health-care policy.
Photo: Brooks Kraft/Corbis via Getty Images
The positive news for the GOP congressional leadership on the stalled Obamacare repeal-and-replace front is that they seem to be coalescing around a strategy sometimes called "repeal-plus"— using the pending budget-reconciliation bill they authorized last month to repeal the non-regulatory portions of the Affordable Care Act and at the same time enact those elements of a replacement plan on which most Republicans can agree.
But the strategy must somehow thread the needle between the desire of the public (reinforced by Donald Trump's promises) for maintaining Obamacare levels of health coverage, and conservative pressure to get rid of as much of the socialist abomination as is possible. This latter pressure point is gaining strength as House conservatives threaten to vote against anything that's not a straight repeal of Obamacare, while the venerable tea party group FreedomWorks plans to mobilize grassroots support for the least Obamacare-like alternative out there, Rand Paul's let-'em-eat-markets approach.
As Politico reports, as many as 50 House Republicans are prepared to demand a vote on the "dry run" Obamacare repeal legislation Congress sent to Barack Obama for a certain veto early last year. It was a straight repeal without replacement provisions, and, for dessert, also included defunding Planned Parenthood. This is the same bill, it should be remembered, that the Congressional Budget Office recently estimated would cost 18 million Americans their health coverage almost immediately (and 32 million within ten years), while boosting individual insurance-policy premiums by more than 20 percent.
The odds of such legislation getting through the Senate are vanishingly small, even though (a) no Democratic votes would be necessary and (b) all non-freshman Senate Republicans voted for it last year, when of course they knew it would not become law. This latter factor means that Mitch McConnell would use all his leverage with Paul Ryan to avoid such a bill coming over from the House and showing up GOP senators as having something less than the courage of their alleged convictions.
Everybody understands these dynamics, so it's likely the real purpose of the House conservative gambit in pushing a politically disastrous repeal-without-replace plan — aside from signaling impatience about inaction — is to keep GOP leaders from going too far in the direction of continuing the very Obamacare policies the public (and presumably fearful Republican senators) would like them to continue. Provisions that might lead to a full-scale conservative revolt range from maintenance of the taxes that financed Obamacare coverage (and that would be supremely useful in paying for a GOP replacement), to too-generous subsidies for private insurance purchases, to excessive generosity to states that accepted the Obamacare Medicaid expansion, to inadequate "freedom" for insurers to discriminate against the old and the sick.
That could leave Republicans with not much more in the way of "replacement" items as such hardy GOP perennials as subsidies for Health Savings Accounts, authorization of interstate insurance sales, and sharp reductions in mandatory benefits for those receiving subsidies. As Ron Brownstein pointed out recently, all these ancient conservative health-policy ideas would erode coverage for the older Americans who happen to be most likely to vote Republican, while boosting out-of-pocket costs for the white-working-class voters who think costs are too high under Obamacare.
These cross-pressures to avoid anything that looks like Obamacare Lite but at the same time to avoid disruption of existing coverage are why Republicans are in such disarray on the subject to begin with. Just punting tough decisions down the road with a repeal-and-delay strategy that maintains Obamacare for years no longer seems like a viable option; conservatives hate it and it creates too much uncertainty in markets. But doing a mini-replacement (which is where "repeal-plus" seems headed) in the current budget-reconciliation vehicle means that any further replacement elements will require 60 Senate votes, meaning at least eight Democrats would have to go along.
As budget expert Stan Collender notes, that brilliant GOP plan for a legislative blitzkrieg this year that would repeal and replace Obamacare, slash taxes, and "reform" the welfare state, all through budget vehicles that made Democrats irrelevant, is looking mighty iffy now. Congressional Republicans cannot put off decisions about Obamacare much longer without imperiling the timetable for everything else they need to do. And there is always the possibility they will be caught by some random Trump tweet and forced to change direction. You have to figure Republican discussions on the legislative agenda, which were supposed to be resolved at a GOP retreat nearly three weeks ago, are in danger of descending into sweaty white-knuckled madness.