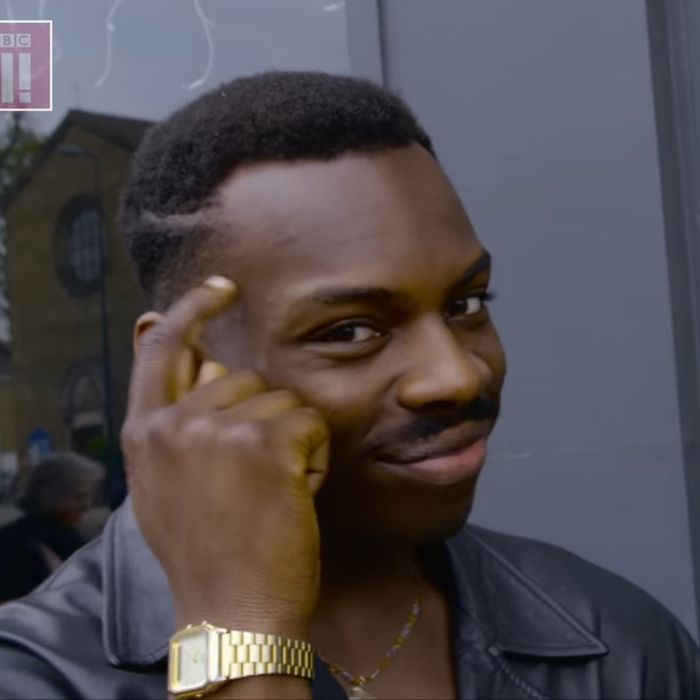 Over the past week or so, you might have seen on your various social-media timelines an image of the fellow above — a guy tapping his finger on his head, having just thought of something. He's figured out a way to avoid his problems, and is passing it along to you as a genius strategy.
The guy pictured is Reece Simpson, a.k.a. Roll Safe, a character created by the British filmmaker and actor Kayode Ewumi. He's the protagonist of #HoodDocumentary, a parody of urban-culture documentaries. As Bim Adewunmi of BuzzFeed described the series early last year:
If #HoodDocumentary were real, it's fair to say its primary audience would be white, looking to "learn something" about the urban youths of whom they've read so much. With that in mind, then, the show is a send-up on two fronts: a straight-up mockumentary with a fictional protagonist, but also a weighted nod and wink to the consumers of this sort of programming.
This particular image comes one minute and 33 seconds into a version of #HoodDocumentary that Ewumi made for the BBC in June. It's shown up everywhere, almost out of nowhere.
A few months later, the pic was adopted as a reaction image by distinctly British accounts with names like Footy Humour (American vernacular: Soccer Humor), before making its way across the Atlantic to the U.S.
In late January, R.S. exploded on Black Twitter as an avatar of logical-fallacies-cum-lifehacks.
While it's not unprecedented to see this kind of transatlantic, U.K.-U.S. cultural accord around a single meme, it is interesting that this one in particular translated so well, and so quickly, from one context to another. What do Great Britain and the United States have in common, in this particular moment, that lethargy and fatalism would be attractive and widely understood modes of being?
Thanks to a pair of shocking elections last year, won in each case by a campaign almost entirely divorced from reality, both Brits and Americans are confronting a world in which it seems that the easiest way to deal with one's problems is to pretend that they don't even exist — or to recast them as benefits. You can't be depressed if you were never happy in the first place.