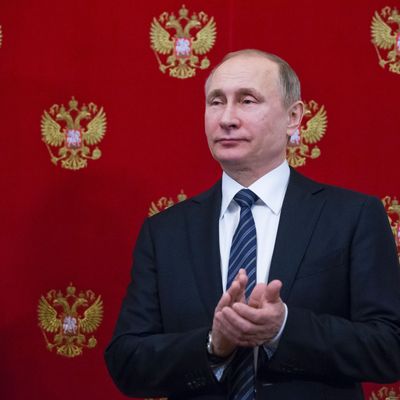 Missile deployer.
Photo: Alexander Zemlianichenko/AFP/Getty Images
In a move that U.S. officials say violates a major 1987 arms-control treaty, Russia has secretly deployed a cruise missile despite years of objections from the Obama administration, the New York Times is reporting.
Russia has "two battalions of the prohibited cruise missile," the Times says. One is still at the nation's missile test site and the other has been shipped to an unnamed operational base. Russia first appeared to test the missile in 2008 and in 2013, when the State Department raised the issue of a treaty violation with Russian officials. Then, in July 2014, President Obama wrote a letter to Vladimir Putin accusing Russia of violating the 1987 treaty on Intermediate-Range Nuclear Forces. Signed by President Ronald Reagan and Soviet leader Mikhail Gorbachev, the treaty bans missiles that can fly between 300 and 3,400 miles.
Despite Obama's letter, Putin moved forward with the missile, and, now that President Trump is in power, it has been deployed. This must be what Trump was talking about on January 7 when he tweeted, "When I am President, Russia will respect us far more than they do now."