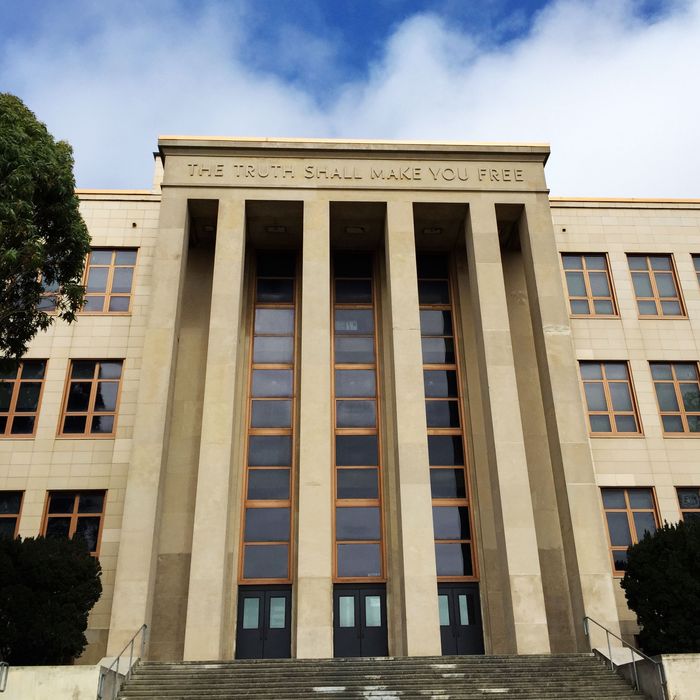 Thanks to funds from a new tax on high-end real-estate sales, the City College of San Francisco will be free for all residents.
Photo: vhines200 /CC/flickr
Old-timers remember when California was the cockpit of a national battle over the idea — championed by Governor Ronald Reagan — that students and their parents should have to bear a portion of the cost of higher education via tuition. Reagan, who was not at all reluctant to accompany his arguments for tuition with robust hippie-bashing, never succeeded in charging tuition at the state's higher-ed facilities, but did get a camel's nose under the tent with higher fees. By the time a new batch of conservative politicians and fiscal hard times arrived in the early 1980s, so too did college tuition in California. And tuition has kept climbing on both coasts and everywhere in between, along with levels of student indebtedness.
So it is appropriate that a California city, San Francisco, has become the first to bring back no-tuition college as a reality, at least for that entryway to upward mobility, the community college:
City College of San Francisco will be free of charge to all city residents under a deal announced Monday by Mayor Ed Lee and Supervisor Jane Kim that college trustees hope will lead to an enrollment jolt and more state funding for the school.
Under the agreement, which is expected to take effect in the fall, the city will pay $5.4 million a year to buy out the $46-a-credit fee usually paid by students.
Low-income students already benefiting from tuition waivers will get a grant to cover books and transportation costs.
But unlike New York Governor Andrew Cuomo's free public-college initiative, the basic program is not means-tested (though it also applies only to community college, whereas New York's would be much broader).
The funding source for the San Francisco free community college is perhaps its most interesting feature: last November's successful Proposition W ballot initiative, which imposed a new tax on the sale of properties costing more than $5 million. In a city with insane top-end real-estate prices and some of the worst inequality in the country, there's a lot of justice in this particular form of wealth redistribution.
The old socialist Bernie Sanders, who made free tuition a cornerstone of his nearly successful run for the Democratic presidential nomination, couldn't have designed it better.