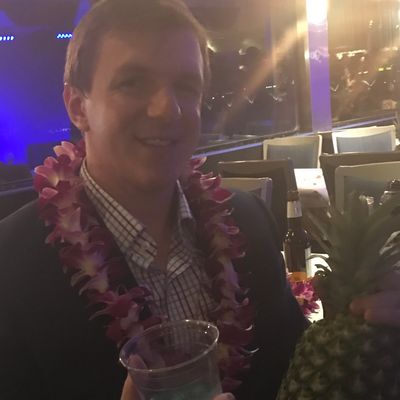 James O'Keefe goes Hawaiian.
Photo: Olivia Nuzzi
Nigel Farage, Dog the Bounty Hunter, and James O'Keefe walk onto a boat.
But not just any boat. Specifically, the Spirit of Mount Vernon, a three-story monstrosity of casino-style carpeting and damp furniture floating in the Potomac River, just a few yards from the Gaylord International Hotel in National Harbor, Maryland. They were onboard Friday evening for the Breitbart luau, held in celebration of the annual Conservative Political Action Conference which, in 2017, is 44 years old. "Hawaiian attire optional but encouraged," the invitation, decorated with an illustration of a dead pig branded with the Breitbart logo, read. "Mahalo!"
The boat had been set to depart at 8 p.m. sharp but, due to an overwhelming number of invitees who expressed worry about being trapped on a boat for an extended period of time with the people who invented Milo Yiannopoulos, the plan changed. The boat would stay docked from 7:30 p.m. to 11 p.m., and all who entered would be given a lei of fuchsia flowers and be encouraged to purchase a tropical beverage made with blue curaçao from the cash bar.
CPAC is the most famous conservative confab in America. Ronald Reagan, its attendees are eager to inform, spoke here 13 times. And in recent years, it's been the place where fringe right-wing figures were laundered into the mainstream: It's where Donald Trump gave his first major political speech, as well as a frequent stop for Ted Cruz, Sarah Palin, Ben Carson, Michele Bachmann, Mike Huckabee, Rand and Ron Paul, and virtually every other modern conservative politician you've ever heard of (hell, even the ones you haven't heard of: Jim Gilmore was next to me at the bar here earlier). In the years leading up to a presidential election, CPAC is where the Republican primary field takes shape; it's difficult to run without developing a name for yourself among the thousands of conservatives who spend between $150 and $5,000 to be here, and the strategists, pundits, and journalists who come to watch.
But the speeches and panels about guns, abortion, and the stealth start of World War III (a real panel that took place this week, in two parts over two days; the conceit being that the war has begun but few people have noticed) are not the main event. The parties are, ranging from your standard D.C. cocktail fare to the utterly deranged. In previous years, there was former Texas congressman Steve Stockman's hot-tub party, or any number of parties at the "Breitbart Embassy" (the name for Steve Bannon's townhouse) featuring live music and Louie Gohmert and countless frat-style hotel parties involving elaborate ice luges.
The Breitbart party had always been the hottest ticket in town, with politicians, strategists, pundits, and reporters all vying to get an invite, or figure out how best to sneak in — these guys did seem to be having the most fun, after all. But this year, the year that Breitbart achieved its ultimate electoral triumph, something was off. Although word around CPAC was that security would be tight, the crowd in the Spirit of Mount Vernon was so patchy that party crashers seemed a welcome presence.
CPAC in 2017 was in some ways defined by Breitbart. It was Breitbart, not establishment conservatives, who supported Trump throughout the Republican primary, long before it seemed possible he could be president. In the main hallway, the website had a sedan-sized booth where its well-known writers, like the spherical Matthew Boyle, lingered and shook hands with readers. And Bannon, who departed the website to join the Trump administration as the president's chief strategist, spoke on a panel with White House chief of staff Reince Priebus, an event moderated and granted legitimacy by Matt Schlapp, the president of the American Conservative Union, CPAC's host. This was a departure from years past, when Breitbart was the scrappy outsider and it wasn't yet evident that the fringe right had any real power. In 2013 and 2014, Breitbart hosted off-site events called "The Uninvited" for those not welcome on the premises, like Ann Coulter, who was, it seems unbelievable now, deemed too controversial. "I didn't like 'The Uninvited,'" Schlapp said, while introducing Bannon and Priebus onstage. "Everybody's part of our conservative family."
But like a family, not everyone gets along. With a controversial Republican in the White House, conservatism finds itself in the midst of an identity crisis. Establishment figures like Schlapp have been rendered irrelevant while Breitbart, with its newfound influence and staffers joining the administration, is attempting to mainstream itself by poaching from places like The Wall Street Journal. And the new fringe? Well, the big debate this week was whether its poster boy, Yiannopoulos, had in fact advocated for pederasty. The various CPAC parties on Friday night, then, were like a boozy tour through this perilous terrain.
"God has his hand on America, the land of plenty," Dog the Bounty Hunter told me, "and nobody is getting in American leadership right now that God's not allowing."
He was standing in the back of the boat, leaning on an intricate wooden cane, his sunburned chest bursting through a shirt he barely attempted to button. His wife, Beth Chapman, a Hillary Clinton donor turned Trump supporter with a shockingly beautiful face, held court nearby. While Dog dispensed compliments to passersby (he told me I have "bright eyes" and ran his hands through Jezebel reporter Prachi Gupta's hair), Beth attempted to convince a young woman working for Project Veritas, James O'Keefe's undercover video outfit, to investigate something. Earlier in the evening, the couple had hosted a cocktail hour in the Gaylord's Chesapeake suite in honor of Milwaukee sheriff David Clarke, a Trump booster who some are attempting to draft for the Senate in 2018.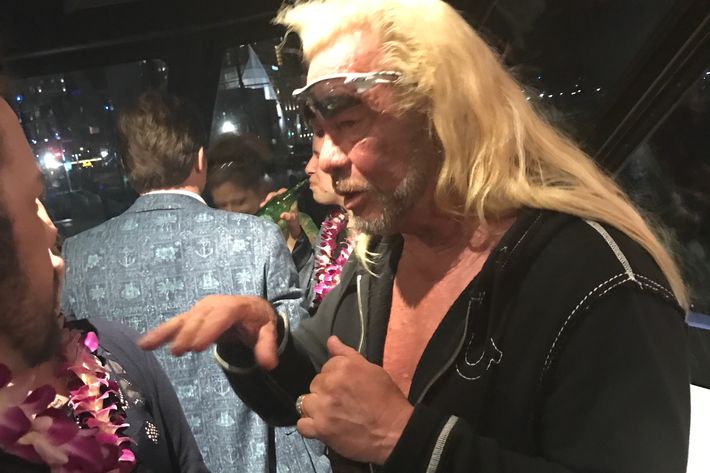 Not far away, Nigel Farage, the British populist politician who campaigned for Brexit, was dutifully posing for selfies and smoking a cigarette. O'Keefe, meanwhile, sipped his blue cocktail and walked around the boat with his camera crew for what he said was a documentary. At one point, he agreed to pose for a photo wearing a lei and holding a pineapple.
Was this the party everybody had been trying to crash all those years? Guests began to stream out early in search of the next fun thing.
A number of members of what was described to me as "the new right" congregated in Shelly's Back Room, a cigar bar on F Street back in D.C. There was the host, Mike Cernovich, a social-media personality who was instrumental in spreading rumors about Clinton's failing health during the election, and Michael Flynn Jr., the conspiracy-minded son of recently departed National Security Adviser Michael Flynn. Before long, O'Keefe was at this party, too, sans herbaceous perennial.
The scene here, Cernovich correctly assessed, was "lit."
Cernovich once proudly identified with the alt-right, but he said those days were over. The movement had been ruined, he complained, by neo-Nazis like Richard Spencer, who was kicked out of CPAC on Thursday. "Richard and the alt-right can have their little sandbox," he said.
"I'm new right — it's different." He sees himself in this group, he said, with Alex Jones, the conspiracy-theorist radio host and founder of Infowars; Paul Joseph Watson, the Infowars editor; Tucker Carlson, the Fox News host, a choice that might surprise some; and Yiannopoulos, whom he continues to believe in despite his recent controversy. "He was almost in the majors," he said of Yiannopoulos, "but he'll be back in a year."
These were not, he was careful to clarify, members of the alt-right. That group, he complained, only had his initial support due to a misunderstanding. "I didn't realize it was, like, a white, ethno-nationalist thing," he said. "They lost it with the Nazi salute."
Asked if he would punch Spencer in the face, as some had taken to doing upon seeing him in public, Cernovich said no. "He's a cake boy," he explained. What did that mean? "Soft like a cupcake."