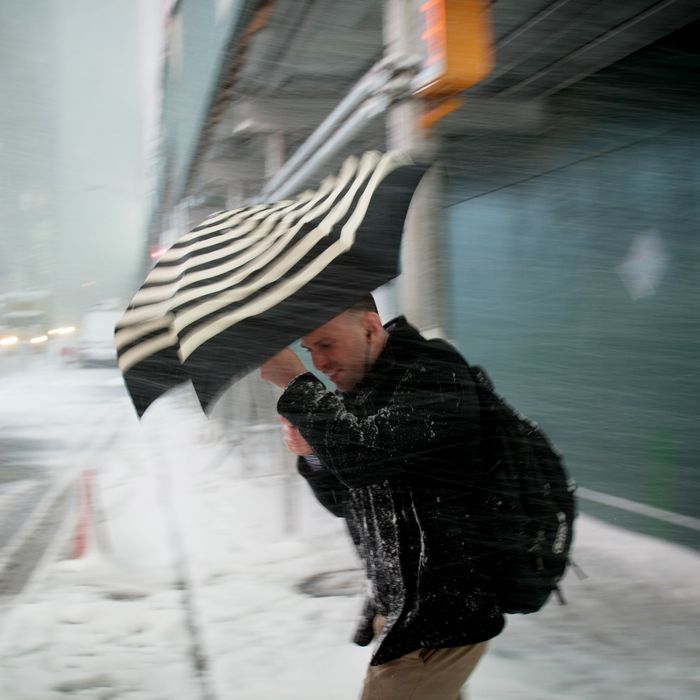 Like that umbrella was going to last, buddy.
Photo: Bryan R. Smith/AFP/Getty Images
New York City is getting walloped by a February snowstorm. Check that: thundersnow storm.
About eight to twelve inches of snow is expected in New York City. By 7 a.m., Central Park had recorded two inches of snow, though with flakes falling at a rate of one to three inches per hour, that number is likely shot. Early-morning totals were a bit higher in the Bronx (six inches), and Hollis, Queens, and Gravesend, Brooklyn, both logged in around four inches. La Guardia Airport hit nine inches by about 9 a.m.
Public schools are closed. The adult snow day is basically dead, but for those forced to commute to the office, the upside of 20-degree temperatures, bitterly cold winds, broken umbrellas, wet feet, and crappy visibility was a seat on the subway during rush hour.
And the snow brought out the requisite cross-country skiers:
The heaviest snow will fall before 1 p.m., and then taper off until it's pretty much clear by evening. The blizzardlike conditions are making for a quiet, beautiful, social-media-worthy city scene.
Which will turn into an icy, soppy hellscape in a matter of time.
Garbage-filled slush puddles coming soon.