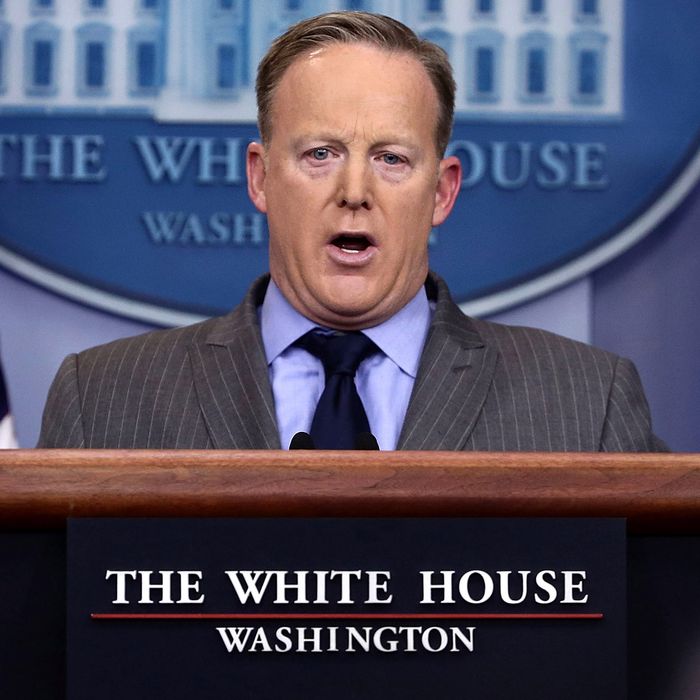 Sean Spicer.
Photo: Alex Wong/Getty Images
Sean Spicer has only held the position of White House press secretary for a few weeks, but he's already having one hell of a run. First, there was the unearthing of his ongoing Twitter feud with Dippin' Dots … yes, the orb-shaped ice cream. Then he stood behind the podium and (falsely) stated that President Trump had the "total largest audience" of any inauguration in history. Then there was the gum thing and the Onion video he shared about himself. And now, it appears, people have stumbled upon Spicer's public Venmo (a money-transfer app) account and are using it to troll him.
The account was first spotted by the podcasters behind "Who? Weekly." Based on recent exchanges visible on Spicer's account, it appears people have been sending him money for things like "Dippin' Dots" and "gum," and even some money to "get ur hairline back" and "to buy some alternative dignity."
Sending Spicer money is funny, but it's clearly not the ideal troll since Spicer walks away with, well, your money. Instead, the better move here is requesting money from him. Which people are also doing now that they've discovered Spicer's account on the app.
Of course, given the nature of Venmo, it's not possible to 100 percent verify this is Spicer's — the real one, with White House credentials — account. A glance at his transaction history shows just two payments over the summer — one to a Ryan Spicer and another to a Shannon Spicer — before the trolling began. For what it's worth, Sean Spicer does have a brother named Ryan and a sister named Shannon. And one Twitter user pointed out Spicer's 27 Venmo friends include a major K Street lobbyist. Do with this information what you will. Either this is an extremely good long con being played out by an Alternative Spicer or, quite possibly, it's actually the White House press secretary. And if it is really him, at least he'll have some extra funds to keep buying those 35 sticks of Orbit cinnamon gum he swallows each day before noon.