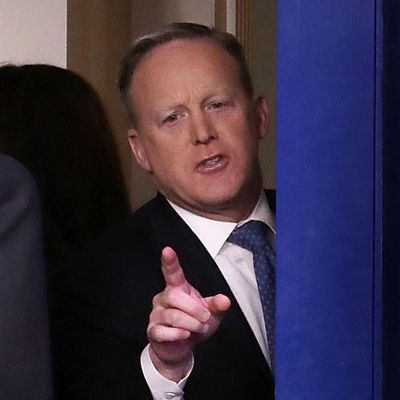 Not taking any questions on the subject of his birthplace.
Photo: Chip Somodevilla/Getty Images
"Why does it matter what state I was born in?" Sean Spicer asked me by email. It was 9:27 p.m. on Saturday and the White House press secretary was in a particularly prickly mood. He was upset with the New York Times for publishing a story about President Trump's relationship with the media (tl;dr: it's complicated) that, "due to an editing error," misidentified his place of birth as New England, where he grew up.
To Spicer, this was no honest mistake. It was yet another example of a reckless media out of control. "The opposition party" may be a phrase coined by chief White House strategist Steve Bannon to describe the press, but it's Spicer who goes to war every day, slogging out to the briefing-room lectern to face a scrum of reporters primed to catch him in yet another misstatement or mistruth. And what about when they screw up? Where are the GIFs and cutesy nicknames — "Spicey," anyone? — humiliating them?
Over the weekend, the Washington Post's Erik Wemple assessed that the White House press secretary is "losing his grip." That opinion is not uncommon among reporters covering the administration, many of whom describe increasingly heated exchanges with Spicer.
As a protest of sorts for the Times' mistake, Spicer refused to help the paper make a correction. "He was New England bred, having been raised in Rhode Island; he was not 'New England born.' (Mr. Spicer would not go on the record and give the correct facts pertaining to his birthplace)," the appended note on the story read, leaving many on social media scratching their heads.
Wryly, CNN's Jake Tapper said it must be difficult to have people wrongly speculate about your place of birth — something Spicer's boss memorably did for years with President Barack Obama. Glenn Thrush, one of the authors of the story, took to Twitter to note that he'd contacted Spicer multiple times before publication but had been ignored. Spicer then accused Thrush of making "excuses" for himself.
"They got it wrong and never asked," Spicer said to me, at 9:44 p.m. "They and others are quick to judge others but hold themselves to a very difficult set of standards."
So, I asked. Where was he born?
"After both Politico and Mashable disclosed personal information I see no need on further sharing of my information," he said at 11:05 p.m., apparently referring in the latter case to a story about web domain names Spicer had registered and which still showed up in his WHOIS listing. (It's unclear which Politico story he meant.)
In any presidential administration, the cliché that there are no victims, only volunteers, is true. Spicer signed up for this very public job, and he is paid by your taxes. His basic biographical details, then, are a matter of legitimate public curiosity. But, when I noted this, Spicer only grew more frustrated.
"Are you serious?" He asked. "Btw you continue to overlook the main issue: the nyt was wrong. They never asked the question in the first place."
That was the last I heard from him on the question. Spicer, it would seem, had had enough.
The nastiest and most public of Spicer's disputes with media in recent days involved a Politico story by Alex Isenstadt and Annie Karni. The piece reported that Spicer called an emergency meeting with his communications staff to crack down on leaks, going as far as demanding to search their personal cell phones.
In that story, Spicer also reportedly cited encrypted messaging apps like Signal and Confide as being off limits, saying that using them would place administration staff in violation of the Presidential Records Act. But, when I glanced through my contacts on Confide, there was Spicer's name, staring out at me from a sea of other political operatives (the app shows users which contacts from their phone book have also downloaded it).
Things got much weirder, though. In an apparent effort to dissuade Isenstadt from publishing the story — or to punish him for doing so — Spicer made a threat. During a call with the journalist, he accused Isenstadt of laughing at the recent death of Navy SEAL Ryan Owens (Isenstadt had heard that Spicer made an underling cry and was following up on that; Spicer countered that the person in question was emotional about Ryan's death). Then, in an email, Spicer told Isenstadt he would "be sure to get that out." Not long after Politico ran the story about the cell-phone checks, the Washington Examiner published a story with the headline, "Claim: Reporter laughs at Trump aide's emotion over SEAL death." The report is sourced to "one informed official."
Not everyone agrees that Spicer is spiraling. A source close to the press secretary who didn't want to be named told me that "senior administration officials" are increasingly "very happy with his job performance." This source said that Spicer's recent press briefings had been noticeably calmer than in the earliest days of the administration, and that calmness should be interpreted as proof that he is firmly in control of his actions.
Spicer stopped replying to me about his birthplace at 7:54 a.m. on Sunday — not even answering a question about whether he was born in Kenya. Later that day, a Wikipedia user by the name "Trumpetrep," citing a birth announcement in the Newport Daily News, took the liberty of updating Spicer's page to state that he was born on September 23, 1971, at North Shore Hospital in Manhasset, Long Island. It's pretty convincing evidence — if you trust what's printed in newspapers.