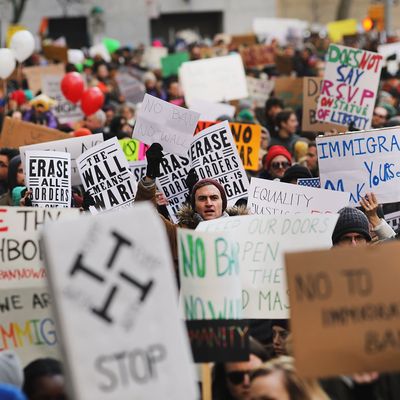 Backlash.
Photo: Spencer Platt/Getty Images
There has been a blizzard of litigation to accompany the vast protests over Donald Trump's notorious ban on entry into the United States of refugees and immigrants from selected Muslim countries. Multiple judges intervened with orders to stop the madness at U.S. airports.
But previous judicial interventions were focused on that madness, not the underlying policies. And that's why it's significant that a federal judge in Seattle, James Robart, issued a nationally binding temporary restraining order on the travel ban that challenges its fundamental validity.
Of equal significance, the order was in response from petitions not just from civil libertarians and immigrants' advocates, but from the states of Washington and Minnesota. The Washington Post reports:
[Washington] State Attorney General Bob Ferguson said this week that the travel ban significantly harms residents and effectively mandates discrimination. Minnesota joined the suit two days later.

After the ruling, Ferguson said people from the affected countries can now apply for entry to the U.S.

"Judge Robart's decision, effective immediately … puts a halt to President Trump's unconstitutional and unlawful executive order," Ferguson said. "The law is a powerful thing — it has the ability to hold everybody accountable to it, and that includes the president of the United States."

When it all shakes down, presidential authority over immigration law will be hard to challenge. But for now, barring some immediate countervailing action by higher courts, Robart has put a stop to the travel ban and its deliberate and carelessly incidental human toll.
Update: The government has told airlines to begin allowing the previously barred travelers to fly to the U.S., but the Trump administration vowed late Friday to file an emergency stay as soon as possible:
At the earliest possible time, the Department of Justice intends to file an emergency stay of this outrageous order and defend the executive order of the President, which we believe is lawful and appropriate. The president's order is intended to protect the homeland and he has the constitutional authority and responsibility to protect the American people.
The White House then sent a second, revised statement removing the word "outrageous."