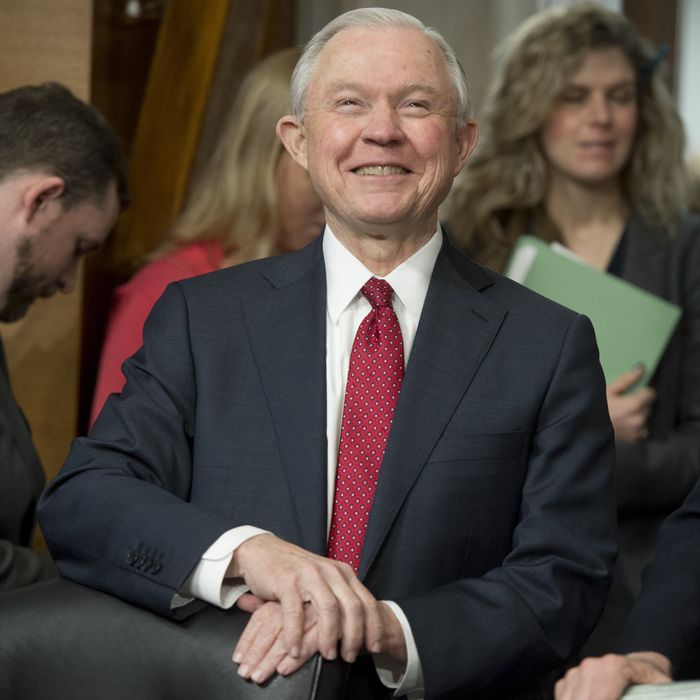 Jeff Sessions, your new attorney general.
Photo: SAUL LOEB/AFP/Getty Images
In spite of fierce Democratic opposition, which was intensified by Tuesday night's silencing of Senator Elizabeth Warren, Senator Jeff Sessions was confirmed to be attorney general on Wednesday night. The vote was 52 to 47, with Senator Joe Manchin casting the one Democratic vote in support of Sessions. The Alabama senator voted "present" on his own nomination.
For weeks, Democrats argued that Sessions, who was denied a federal judgeship in 1986 amid accusations of racism, would not uphold civil and voting rights for African-Americans. They also criticized his stance on immigration, women's rights, and LGBT rights. Senator Cory Booker made history by testifying against his colleague during Sessions's confirmation hearing.
"His record raises doubts about whether he can be a champion for those who need this office most and it also raises doubts about whether he can curb unlawful overreach" by President Trump, said Senator Tim Kaine.
As Democrats came to Warren's defense, with several reading the Coretta Scott King letter that led to Republicans barring the Massachusetts senator from the debate, Republicans said Sessions had been mistreated throughout the confirmation process.
"He's honest. He's fair. He's been a friend to many of us, on both sides of the aisle," Majority Leader Mitch McConnell said. "It's been tough to watch all this good man has been put through in recent weeks. This is a well-qualified colleague with a deep reverence for the law. He believes strongly in the equal application of it to everyone."
Tim Scott, the chamber's only African-American Republican, defended Sessions on the Senate floor, saying he had "earned my support." Scott read messages he received on social media accusing him of letting black people down by standing behind Sessions. "I left out all the ones that used the 'n-word,'" he said, noting that the complaints weren't that unusual. "If you sign up to be a black conservative, the chances are very high you will be attacked. It comes with the territory," Scott explained.
In a speech following the vote, Sessions acknowledged the "heated debate" and said he hopes members of the Senate can find common ground going forward. "Denigrating people who disagree with us is not a healthy trend for our body," he said.
But Democrats said they have no intention of holding back on the Trump administration. Just after Wednesday night's vote, Warren tweeted that she's "deeply disappointed" by Sessions's confirmation, and vowed that she and other Democrats will speak out if the attorney general violates the law.
This post was updated to include Warren's response.