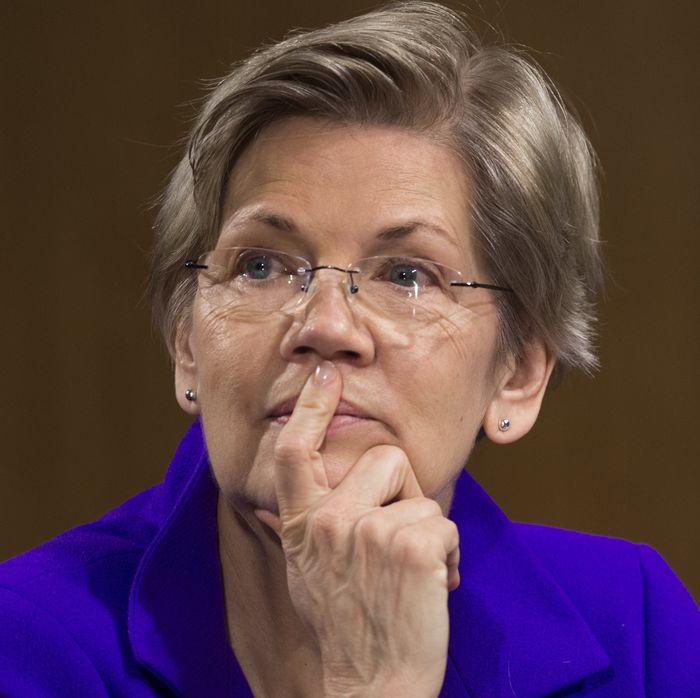 Mitch McConnell might have done Elizabeth Warren a favor.
Photo: SAUL LOEB/AFP/Getty Images
Senator Elizabeth Warren's speech on the Senate floor was interrupted by Majority Leader Mitch McConnell on Tuesday night, and Senate Republicans voted to ban her from speaking during the remainder of the debate over the confirmation of Senator Jeff Sessions for attorney general. Her infraction: quoting from a 30-year-old letter written by the late Coretta Scott King.
In 1986 the Senate denied then-Alabama attorney general Sessions's nomination to be a federal judge. Warren read criticisms of Sessions from that debate, including the late senator Edward Kennedy's comment, "He is, I believe, a disgrace to the Justice Department and he should withdraw his nomination and resign his position."
She also quoted from a letter Martin Luther King Jr.'s widow wrote to the Senate. "Mr. Sessions has used the awesome power of his office to chill the free exercise of the vote by black citizens in the district he now seeks to serve as a federal judge," King wrote. "This simply cannot be allowed to happen."
After Warren read Kennedy's quote, the Senate's presiding officer on Tuesday night, Senator Steve Daines, warned her not to violate the Senate rule against "impugning the motives" of a fellow senator. She protested that she was merely reading the words of others, and Sessions was not a senator when they made their remarks. Daines said Rule 19 applies to "quotes, articles, or other materials," but Warren was allowed to continue.
A short time later McConnell cut in to object that Warren had once again "impugned the motives and conduct of our colleague from Alabama," pointing to lines from King's letter. Warren said she was "surprised" that King's words weren't suitable for the Senate floor and appealed the ruling.
The Senate voted 49-43, along party lines, to confirm that Warren had violated Senate rules. Now she is forbidden from speaking on the Sessions nomination.
"Senator Warren was giving a lengthy speech," McConnell said. "She had appeared to violate the rule. She was warned. She was given an explanation. Nevertheless, she persisted."
So far it looks like McConnell's move backfired, particularly because Warren's speech wasn't likely to prevent Sessions from being confirmed on Wednesday. Warren quickly took to social media and the moment went viral, sparking the hashtag #LetLizSpeak.
She also called in to MSNBC, telling Rachel Maddow, "I've been red-carded on Senator Sessions, I'm out of the game of the Senate floor. I don't get to speak at all."
The incident gave Democratic lawmakers — who are being pushed by their base to oppose Trump and his party more forcefully — a moment to rally around. Senate Democrats asked that Warren be allowed to continue her speech, and pressed to have King's letter placed into the Senate record, but Republicans objected. Debate on Sessions will continue into the night, and Senator Chris Murphy, a Democrat from Connecticut, suggested he intends to violate Rule 19 as well.
Warren's defenders highlighted an embarrassing incident from McConnell's past, noting that in 2015 Senator Ted Cruz wasn't censured for calling the majority leader a liar on the Senate floor. Others joked that McConnell just wrote the slogan for Warren's 2020 presidential campaign. Redbubble.com is already selling a shirt that reads, "She was warned. She was given an explanation. Nevertheless, she persisted. #RESIST."