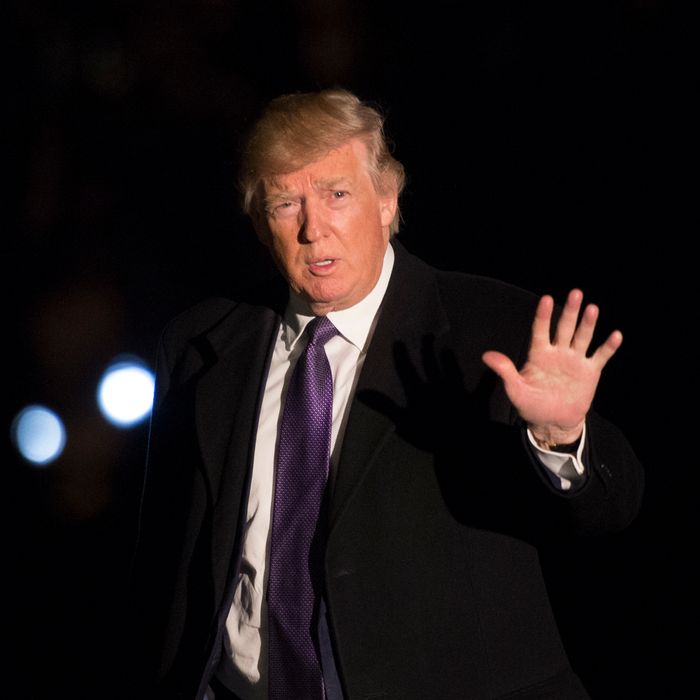 Another NSC hole to fill.
Photo: Molly Riley/AFP/Getty Images
The White House has fired a senior National Security Council aide after he was found to have criticized President Trump and administration officials at a private think-tank event. Politico reports that Craig Deare, the NSC's senior director for Western Hemisphere Affairs, made the comments at an off-the-record roundtable discussion attended by a few dozen scholars at the Woodrow Wilson Center last week. Deare was dismissed after the White House found out about the remarks, in which he apparently criticized Trump, chief strategist Steve Bannon, and the general dysfunction plaguing the Trump administration, as well as the president's daughter, Ivanka, and son-in-law/senior adviser, Jared Kushner.
It seems hard to believe that a member of the NSC would think they could do something like give "a detailed and embarrassing readout of Trump's call with Mexican president Enrique Pena Nieto" and not expect the White House to find out and fire them, but Deare, a former dean of administration at the National Defense University, was not an Obama-holdover, but a political appointee who was added to the NSC after Trump's took office. Deare also reportedly criticized the power structure in the administration, specifically how senior national-security aides did not have access to Trump.
It's the second departure from the NSC in a week, following the ouster of National Security Adviser Michael Flynn after it was revealed that he had lied to administration colleagues regarding a call he conducted with Russian ambassador Sergey Kislyak while a member of Trump's transition team. (Flynn also selected Deare.) Trump's first choice to be Flynn's replacement, retired Vice Admiral Robert Harward, has declined the job offer, citing "financial and family issues" after reportedly being told that he could not hire and fire his own staff on the NSC. MSNBC then reported on Friday that Harward had actually turned down the position because the White House wouldn't meet certain conditions, which included making sure there was a clear chain of command, him having a direct line to the president, and the removal of political advisers like Steven Bannon from the NSC. According to the report, Harward was then asked to reconsider by the White House, and said he would, but opted to stick with his original decision after watching Trump's bonkers press conference on Thursday.
Another allegedly top candidate for the national-security-adviser job, retired four-star general David Petraeus, did not advance to the interview phase because, according to The Wall Street Journal, the White House thought that his demands were unreasonable. "Whoever it is that would agree to take that position certainly should do so with some very, very significant assurances that he or she would have authorities over the personnel of the organization, that there would be a commitment to a disciplined process and procedures," Mr. Petraeus said during an appearance at the Munich Security Conference on Friday.
The remaining candidates for the position are former U.N. Ambassador (and Iraq War co-architect) John Bolton and a trio of retired lieutenant generals: Keith Kellogg, H.R. McMaster, and Robert Caslen. All four (and currently unknown other candidates) will reportedly meet with Trump at his Mar-a-Lago Resort in Florida this weekend.