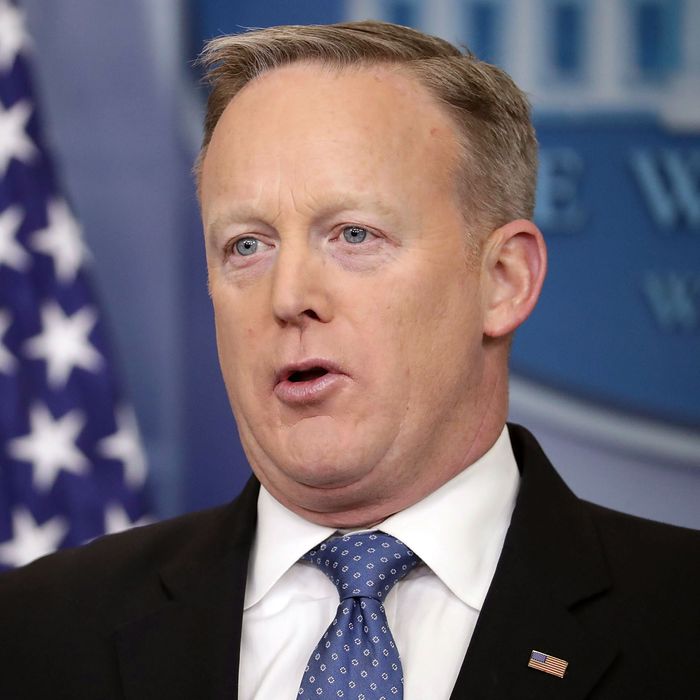 White House press secretary Sean Spicer, master of the devastating, fact-based rebuttal.
Photo: Chip Somodevilla/Getty Images
CNN, which reported last month that U.S. intelligence had briefed President Obama and President-elect Trump on a dossier alleging that Russia had blackmail material on Trump, now reports that investigators have affirmed some of the claims in the dossier. (Not the part about you-know-what, but other parts.) Officials tell CNN they found the information in the course of intercepting communication between "foreign nationals, including those in or tied to the Russian government." CNN asked Press Secretary Sean Spicer for his comment, and Spicer did not disappoint:
Reached for comment this afternoon, White House Press Secretary Sean Spicer said, "We continue to be disgusted by CNN's fake news reporting." Spicer later called back and said, "This is more fake news. It is about time CNN focused on the success the President has had bringing back jobs, protecting the nation, and strengthening relationships with Japan and other nations. The President won the election because of his vision and message for the nation."
What's so impressive about the response is that Spicer called the report "fake news," then, obviously deeming the first comment inadequate, picked up the phone and again described the report as "fake news." The idea of the second phone call is to say something better or wittier than your original insult. You don't just call back and repeat the same weak burn.