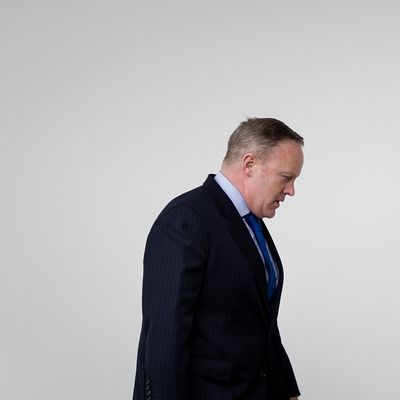 Spicer is on the hunt.
Photo: Brendan Smialowski/AFP/Getty Images
Last week, White House press secretary Sean Spicer conducted a surprise phone check on his staff in an effort to stamp out leaks, according to a new Politico report. Spicer, upset that information had leaked out of a previous meeting he had held with roughly a dozen members of his staff, ordered another meeting and had staff surrender their phones and other electronic devices when they arrived. The search — which applied to both personal and government-issued phones — was overseen by White House lawyers, and Spicer then warned staffers against using privacy-focused messaging apps like Signal and Confide, noting that doing so violates the Federal Records Act. He also, per Politico's sources, "warned the group of more problems if news of the phone checks and the meeting about leaks was leaked to the media," which it promptly was.
President Trump and his administration have been repeatedly complaining about the many leaks that have come out about their governing efforts, and Spicer's is not the first attempt to get a handle on the problem. The State Department recently sent a legal memo to its staff outlining the dangers of leaking, which we know about because the memo was itself leaked. Then on Friday, President Trump criticized the FBI and called for an investigation after sources at the agency leaked that FBI officials had refused White House requests for them to leak information to the press in order to dispute leaked accounts of contact between Trump officials and the Russian government. Then again, while Trump has called for going after leakers, he has simultaneously accused news organizations of inventing the sources of the leaks, as well as insisted that the leaks are real, but the news based on the leaks is fake.
Furthermore, a New York Times report out on Saturday makes the point that Trump used to be the leaker-in-chief when it came to publicizing himself to New York tabloids back when he was just a fame-craving real-estate mogul and not the president. Noted the Daily News' Linda Stasi to the Times about her own experience on the receiving end of such efforts:
He used to be the one leaking! He was leaking about himself. He would call up with fake accents and pretend it wasn't him. He would tell us 100 times: 'Now listen, I'm going to tell you something, but it didn't come from me.'
Stasi also commented that Trump "would plant stories and he would get mad if they didn't come out exactly as he wanted," since "it never occurred to him that he couldn't control everything."