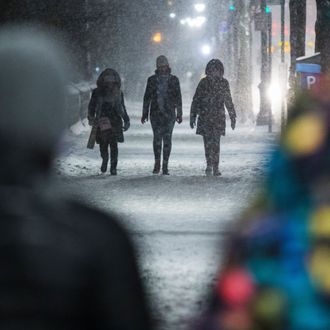 Photo: Eduardo Munoz Alvarez/AFP/Getty Images
This is very confusing, because New Yorkers are, right now, walking around without coats and squinting in the springlike sunshine, but here goes: In a matter of hours the city will be blanketed in snow. Meteorologists expect six to ten inches of snow around the city, and up to a foot nearby. Temperatures will nosedive, and winds will gust at 35 to 40 miles per hour. "Near blizzard conditions possible along the coast," warns the National Weather Service.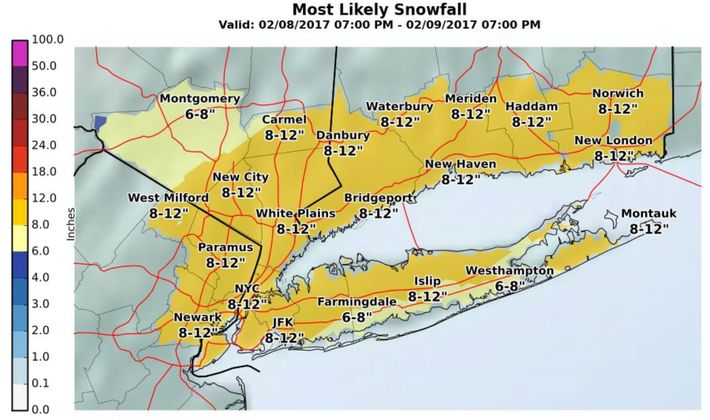 The weather will get even more perfect before it turns, as temperatures flirt with 60 degrees in New York on Wednesday, near record-highs. As the Daily Mail puts it, "a bi-polar weather system pushing through the East Coast will make residents feel like they're experiencing hot flashes."
Rain will begin early Thursday, but as quickly as the temperatures drop, that precipitation will change over to snow. The worst of the snowfall is expected between sunrise and noon, with accumulations collecting at a rate of up to three inches per hour. Drifting snow, coated roadways, and poor visibility — a half-mile or less — will make for a messy commute and hazardous driving conditions. "Only travel in an emergency," instructs the National Weather Service.
A winter storm warning will go in effect at midnight tonight and last until 6 p.m. Thursday. When the storm wraps up, in late afternoon or early evening, the city will be left with bitter cold and wind chills in the single digits. New York City has also issued a snow alert, going live at midnight, and is readying the sand, salt, and plows to clear city streets, including, hopefully, Queens.