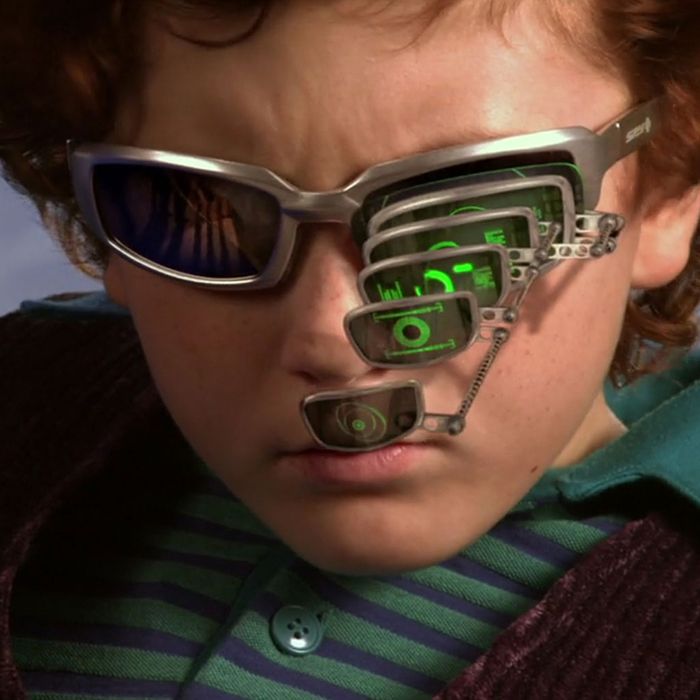 Back in 2002, Spy Kids 2: Island of Lost Dreams hit theaters. A follow-up to 2001 hit kids' film Spy Kids, the sequel featured the same brother-sister spy duo of Carmen and Juni Cortez, this time tackling strange creatures and a crazed scientist on, well, an island. As far as spy flicks go, it's no North By Northwest, but we need to give it some credit for its prescience: Now, over a decade later, a shot of Juni wearing a pair of, uh, extremely elaborate smart glasses has become a widespread meme encapsulating the intensity of reading and creeping online.
The still image and GIF come from a scene in Spy Kids 2 where Juni and his sister spot another team of child spies — another brother-sister team, Gary and Gerti Giggles; man, they don't make movies like this anymore — and Juni decides he needs a better view of them. His sunglasses proceed to expand into six extended lenses providing, I assume, some very good optical zoom. As noted by the Daily Dot, the meme traces its online origins back to around 2013, but has seen a recent uptick on Reddit, particularly on /r/MemeEconomy (a subreddit devoted to "buying and selling" popular memes a la the actual stock market).
While a meme spawned from a fifteen-year-old movie engineered to entertain kids and keep their parents' eyeballs from falling from their heads — did I mention the cast also includes Alan Cumming, Antonio Banderas, Danny Trejo, Holland Taylor, and Steve Buscemi — might seem out of place in 2017, the reemergence of Spy Kids near the center of online culture actually makes perfect sense, and offers some of insight into who is driving the, uh, meme economy these days: The late teens and early twentysomethings who were Spy Kids's adolescent audience in 2002. Now that audience is grown, and owns computers, and spends its evenings delving into the bowels of the internet while blue light does irreparable damage to their circadian rhythms.
For those of us who grew up dreaming of escaping our bedrooms using acid crayons that burnt through walls, and of miniature submarines that also came equipped with futuristic galley-kitchen microwaves that would whip up whatever food we desired with the press of a metallic button — these are all real Spy Kids plot points; I may have watched this series once or twice or 30 times as a kid — Juni Cortez and his smart glasses hit the sweet nostalgia-meme spot. It's the same reason shows like SpongeBob SquarePants birth such an array — Primitive Sponge, Confused Mr. Krabs, SpongeBob Meme History — of memes. Generation Meme (let's say anybody between about 15 and 25) remembers shows and movies like these in detail, which lends their memes depth. A kid with a ridiculous pair of zoomed-in smart glasses paired with a caption about trying to figure out who is texting your girlfriend: pretty good. A kid with a ridiculous pair of zoomed-in smart glasses paired with a caption about trying to figure out who is texting your girlfriend, PLUS remembering that kid was a child spy known to wear neon-colored Band-Aids over his finger warts: extremely good.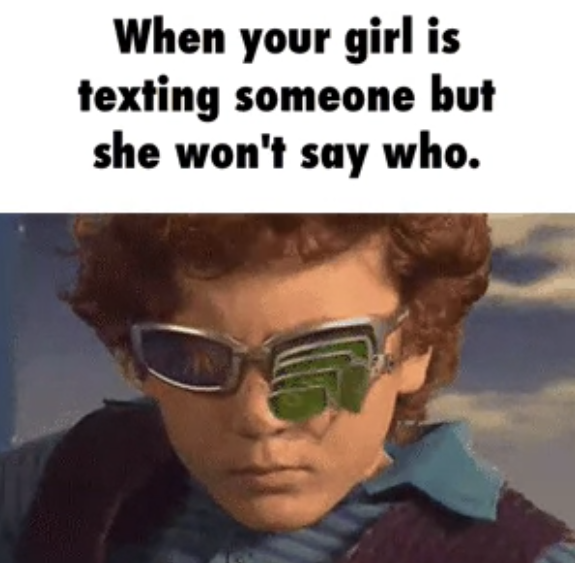 Nostalgia aside, the Spy Kids meme is perfect for any situation where you want to zoom in on something for a closer look: your partner's text messages. A particularly attractive person walking a block ahead of you. Your president's tax returns. The uses are endless.