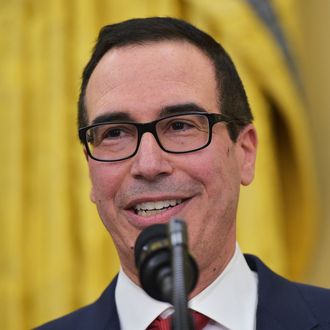 Another rich man joins Trump's cabinet.
Photo: Mandel Ngan/AFP/Getty Images
Former Goldman Sachs partner, hedge-fund founder, and producer of the Entourage movie, Steve Mnuchin was confirmed by the Senate Monday night as the next United States secretary of the Treasury. The Senate voted nearly along party lines, with only West Virginia's Joe Manchin breaking from his Democratic colleagues, who had previously labeled Mnuchin "greedy" and dubbed him the "foreclosure king." He was confirmed with a 53–47 vote.
At a swearing-in ceremony Monday night, President Trump said Mnuchin, who followed in his father's footsteps at Goldman Sachs before starting his own hedge fund, "will fight for middle-class tax reductions, financial reforms that open up lending and create millions of new jobs, and fiercely defend the American tax dollar and your financial security."
After a contentious confirmation battle that focused, in part, on his role atop a bank that profited wildly off the foreclosure crisis, Mnuchin steps into a job that will present some early challenges. Among the earliest will be dealing with the March 15 expiration of the debt-ceiling suspension and finalizing Trump's "phenomenal" tax plan, which is currently being crafted by Gary Cohn, head of Trump's National Economic Council and the former president of Goldman Sachs.