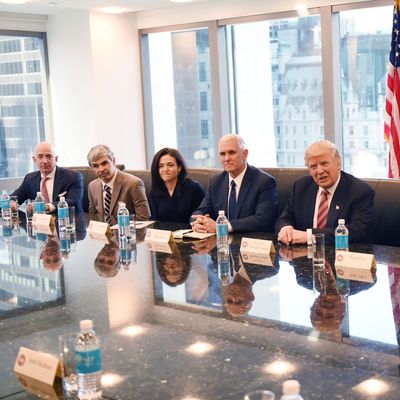 Photo: TIMOTHY A. CLARY/AFP/Getty Images
The technology industry's growing identity crisis — capitalist efforts ostensibly in support of broader utopian gains — has culminated in yet another sign of slight resistance to the Trump presidency. Yesterday, dozens of technology companies (and yogurt maker Chobani) filed an amicus brief asking the Ninth Circuit Court of Appeals to deny the administration's appeal. On Friday night, a federal judge stayed the order after the state of Washington filed suit.
The 97 signatories offer lines of argument on legal, moral, and practical grounds; ones which should not surprise anyone who has followed the controversy over the last week and a half. The order is unconstitutional, they argue, because it discriminates on the basis of national origin.
The order, they further argue, goes against America's longstanding cultural principles as a so-called nation of immigrants. "The experience and energy of people who come to our country to seek a better life for themselves and their children — to pursue the 'American Dream' — are woven throughout the social, political, and economic fabric of the Nation."
Most likely to land with the Trump administration, however, is the corporate argument — that the ban harms companies by stalling innovation and makes companies less likely to conduct business in and with America. "The Order makes it more difficult and expensive for U.S. companies to recruit, hire, and retain some of the world's best employees," they write. "It disrupts ongoing business operations. And it threatens companies' ability to attract talent, business, and investment to the United States." Last week, Trump announced his intent to roll back the Dodd-Frank regulations because his "friends" couldn't conduct business efficiently.
The amicus brief is, in other words, the robust, legal-document version of those hackneyed tweets of Steve Jobs captioned "the son of a Syrian immigrant" (which are, to keep this ouroboros of smugness going, based on a work by Banksy).
Among the signatories are a few interesting inclusions. Uber is on it, no doubt spurred by the thrashing the company received last week over CEO Travis Kalanick's ties to the Trump campaign. Also included are Facebook, which counts Trump unofficial adviser Peter Thiel among its board members, and PayPal, which Thiel helped co-found. Y Combinator, an incubator that counts Thiel among its collaborators, is a signatory as well.
Amazon, one of the largest consumer-facing tech innovators, is notably absent, as are Tesla and SpaceX, founded by Trump business-adviser Elon Musk. Musk has publicly stated that he is against the ban and somehow thinks that he can change Trump's mind.
Unsurprising but significant is the lack of any leading signatories from the enterprise sector — less-flashy tech giants that don't usually align with the start-up side of the Valley's utopian ideals. HP, IBM, and Oracle (whose CEO, Safra Catz, worked on the Trump transition) are all absent. They likely made a calculated business decision, as companies that wield large amounts of economic power, but don't need a PR boost.