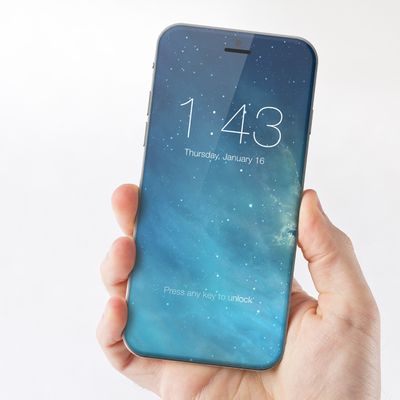 An iPhone concept render by Marek Weidlich.
Photo: f
The Apple rumor-industrial complex seems to be cranking even faster than usual, thanks to the iPhone 8 — or, as some say it will be called, the iPhone X. (Though, why Apple would start using an OSX-style naming arrangement after ditching the "OSX" appellation for "macOS" is a bit beyond me.) The Wall Street Journal has an article out today, outlining what it's been able to gather about the iPhone 8.
Some of this will be old news to anyone who's been following rumors closely. The plan still seems to be to debut three phones this fall: an iPhone 7s, an iPhone 7s Plus, and the iPhone 8. The iPhone 8 will reportedly have an OLED screen, which will mean a more vibrant picture than you get with the LCD screens on current-gen iPhones. The screen will also curve, similar to what Samsung has been doing with its Galaxy line of smartphones for several generations.
But The Wall Street Journal also confirms the growing consensus that the phone will likely go on sale for around $1,000 — meaning we'll likely see a $999 iPhone on store shelves by fall — or maybe more if higher storage options are also available (which they almost assuredly will be). That means there will soon be a phone for sale that will cost the same as a brand-new MacBook Air. It would also make it the priciest mass-market phone ever put forward, and it'll be interesting to see if there's a theoretical limit to how much people will spend on a smartphone. Remember that Samsung's Galaxy Note 7 raised eyebrows about its price when it was sold for $880 (and that was before it started blowing up).
But you'll likely spend more than $1,000 if you wanna jump over to the iPhone 8. That's because The Wall Street Journal is also reporting that the newest iPhone will ditch the Lightning cable for a USB-C-style connector. This means, once again, all your old iPhone cables may soon be worthless.
The switch to the Lightning cable happened in 2012, five years after the original iPhone launched. The move from Lightning to USB-C would happen five years later, so it's not exactly unprecedented for Apple to switch it up like this. It would also bring their phones in line with their new line of MacBooks, which have ditched every form of connector except USB-C.
While there would be some initial pain in forcing people to switch over, the move to USB-C would make sense overall, and would likely benefit iPhone users. USB-C isn't just becoming the standard for Apple, it's quickly becoming the standard across a wide ecosystem of gadgets — from most new Android phones to things like the Nintendo Switch. It would also allow for much quicker charging of your iPhone — a good USB-C charger can refill a hefty smartphone battery in less than an hour.
Not that it'll make it easier to figure out what to do with the rat's nest of Lightning cables any iPhone user has accumulated over the past couple of years. Or how you can unload those Lightning-enabled headphones you may have bought in response to the loss of the 3.5-mm jack in the iPhone 7. But hey, no one ever said being an early adopter was going to be easy. Or cheap.