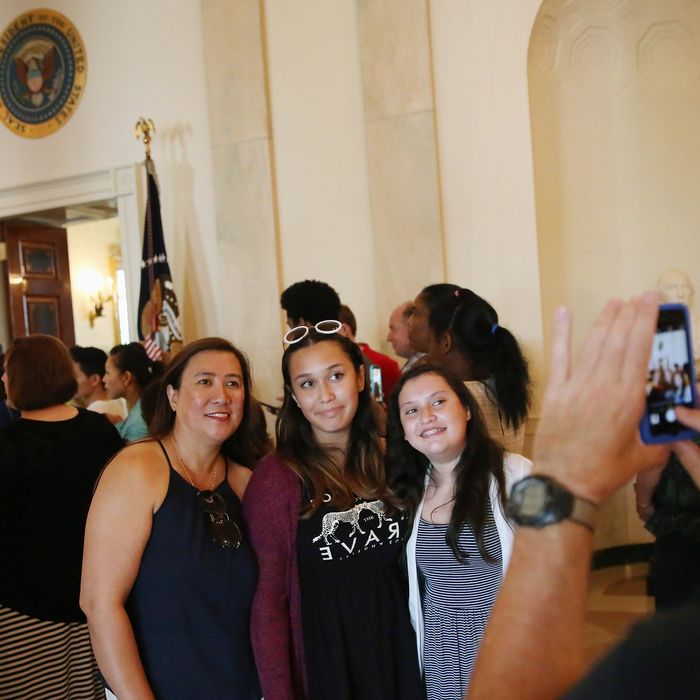 Trump Tours not a thing yet.
Photo: Chip Somodevilla/Getty Images
It's apparently easier to take a picture with the guy who carries the nuclear football than to snap a White House selfie these days. The Trump Administration still has not opened up 1600 Pennsylvania to tours, despite being in office for a little more than three weeks.
According to the Washington Post, administrations usually halt tours during the hectic transition, but to approach a month without allowing visitors is a bit unusual. As of early February, the White House still hadn't hired a new head of the visitors office; Lindsay Reynolds, Melania Trump's newly appointed chief-of-staff, said in a statement that she was "working to ensure that the White House Visitors Office is fully staffed and operational," calling the closure "traditional" and "temporary."
But Congress is getting a little impatient. About two dozen lawmakers — who are the ones getting hounded for tickets — are signing on to a letter asking the White House to reopen the tours office, which notes that "Presidents Clinton, Bush, and Obama all appointed a White House Visitors Office Director before being sworn in, and had reopened the White House to the public at this point."
And if that letter doesn't work, maybe try Twitter: