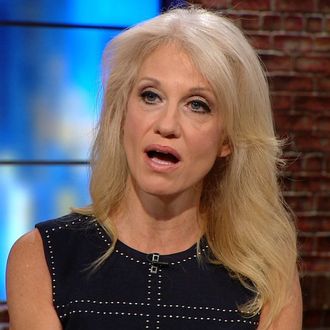 Kellyanne Conway when she was allowed on CNN.
Photo: CNN
President Trump and his team at the White House are giving CNN the silent treatment, refusing to send official spokespeople on the network in what one reporter says is an attempt to push down the network's ratings. An unnamed White House official confirmed the CNN boycott to Politico, but was less blunt about the reason:
"We're sending surrogates to places where we think it makes sense to promote our agenda," said a White House official, acknowledging that CNN is not such a place, but adding that the ban is not permanent.
Administration officials are still answering the questions of CNN reporters and White House press secretary Sean Spicer is still calling on CNN at briefings. But the last time an administration official appeared on the news network was January 11, when Trump adviser Kellyanne Conway was on Anderson Cooper's show, Politico says. That was the same day that Trump blew up on CNN reporter Jim Acosta at his first and only press conference as a president-elect.
As New York previously reported, the drama between CNN and Trump goes back to the president's relationship with network head Jeff Zucker, who Trump believes has personally betrayed him.
Trump's tiff with CNN recalls the tense relationship between Fox News and the Obama administration, which came to a head in 2009. While the White House never froze out Fox, it did try to leave the network out of certain interviews, which drew protests from the other TV news networks. Obama's choice of invective against Fox News — "operating, basically, as a talk-radio format" — was also not quite as pointed as Trump's repeated cries of CNN being "fake news."